As events on the ground in Georgia changed rapidly and Russia's agreement to a French-mediated peace plan seemed in doubt, U.S. President George W. Bush issued a stern statement from the White House reiterating Washington's "unwavering" support for Georgia's government.
"The United States of America stands with the democratically elected government of Georgia," Bush said. "We insist that the sovereignty and territorial integrity of Georgia be respected. Russia has stated that changing the government of Georgia is not its goal. The United States and the world expect Russia to honor that commitment."
Bush also announced that U.S. Secretary of State Condoleezza Rice would travel to France immediately to confer with President Nicolas Sarkozy, who led the peace process between Moscow and Tbilisi.
From Paris, Rice will travel to Tbilisi to, as she put it, "underscore the strong support of the United States for the Georgian people and their democratically-elected government."
The first U.S. C-17 military aircraft landed in Tbilisi overnight, bearing medical and relief supplies, and Bush promised more help was on the way.
Russia: U.S. Must Choose

Russian Foreign Minister Sergei Lavrov responded to Bush by saying the United States will soon have to choose between its "special project" and partnership with Russia.
"Of course, we understand, and they write about it openly, that the current Georgian leadership is a special project of the United States and we understand that the United States worries about the fate of this project, but obviously one day they will have to choose between the notion of prestige with respect to this virtual project and a real partnership on issues that indeed require collective actions," Lavrov said.
Speaking to reporters before she left for Europe, Rice suggested Lavrov's statement revealed more about Russia's position than he intended.
"Georgia is a democratic government in the Caucuses that has elected its leaders," Rice said. "To call it a 'project' of anybody perhaps belies more about the way Russia thinks about its neighbors than the way it thinks about U.S. policy."
"This is not 1968 and the invasion of Czechoslovakia, where Russia can threaten its neighbors, occupy a capital, overthrow a government, and get away with it," Rice said. "Things have changed."
The hardened U.S. stance came amid growing fears in Washington that rather than pulling out, Russian troops might be planning a midterm occupation of the volatile separatist regions of South Ossetia and Abkhazia.
Reports Of Russian Actions
An uneasy cease-fire between Russia and Georgia was agreed to early on August 13 after a provision calling for talks on the future status and security of the Georgian breakaway regions of South Ossetia and Abkhazia was dropped.
But news of the declared end to combat operations between Georgian and Russian forces was quickly overtaken by claims that Moscow had broken the cease-fire.
Bush expressed his concern about the reports, and called on Russia to abide by its obligations. "Russia has also stated that it has halted military operations and agreed to a provisional cease-fire," Bush said.
"Unfortunately, we're receiving reports of Russian actions that are inconsistent with these statements," Bush said. "We're concerned about reports that Russian units have taken up positions on the east side of the city of Gori, which allows them to block the east-west highway, divide the country, and threaten the capital of Tbilisi."
The comments followed reports that a Russian convoy of tanks and armored personnel carriers had left Gori and was traveling on the road to Tbilisi. Georgian Deputy Interior Minister Ekaterine Zguladze later dismissed the reports, saying, "the Russian military is not advancing towards the capital." News agencies reported that Georgian special forces had set up a roadblock between Gori and the capital.
Moscow acknowledged that its forces were "demilitarizing" an evacuated Georgian military base near the central Georgian city -- and called on all Georgian forces to return to their barracks as agreed.
"European monitors have to be on the ground. Europe has to get engaged physically on the ground, and Europe has to stop [the attacks] from happening," Tkeshelashvili said. "We are part of Europe, and part of Europe is being [attacked] now in a very aggressive manner by armed forces, with large-scale military operations from the Russian side. This [cannot] be happening in the modern world."
Atrocities Alleged
The heated rhetoric has continued between Georgian and Russian officials, who allege gross violations of international law by the other, including atrocities against civilians.
Moscow has sought to portray its military incursion as a way to force peace on belligerent Georgian forces intent on "ethnic cleansing" in South Ossetia, where sporadic violence gave way last week to a Georgian military offensive and an overwhelming Russian counteroffensive.
After confirming Moscow's acceptance of the late "clarification" to the cease-fire deal brokered by French President Nicolas Sarkozy, Foreign Minister Lavrov repeated the Russian allegation that Georgian authorities were guilty of ordering atrocities in South Ossetia.
"The Georgian authorities have given orders that led to genocide, war crimes, and ethnic cleansing. This must be answered," Lavrov charged at a press conference in Moscow. "As I have already said, hundreds of our citizens who suffered in South Ossetia are preparing complaints that will be filed in international courts. And the Russian state will actively support this so that justice is done."
Georgia and a number of Western governments have consistently accused the Kremlin of meddling in the breakaway areas, where it offers residents Russian citizenship and acts as a powerful benefactor.
Georgian President Saakashvili announced his government's acceptance of the cease-fire terms in an early-morning television appearance on August 13. Hours later, he appeared at a rally alongside leaders from Estonia, Latvia, Lithuania, and Ukraine to repeat the strongest charges against Russia.
"What we are seeing in the areas is classical, Balkan-type and World War II-type ethnic cleansing and purification campaigns," Saakashvili said. "And the world seems to talk about peace talks, cease-fires, agreements, modalities, while the worst kinds of atrocities are being committed right now in my country against my people of all ethnic groups."
The Georgian president bluntly accused Russian forces of failing to respect the cease-fire, a charge that he and other officials have since repeated.
"The cease-fire on the Georgian side was always enforced, but, as you saw, the Russian side, the Russian occupational force, didn't respect any cease-fire," Saakashvili said. "They came into and, as I said, they went through our towns they are rampaging, and they are also shooting."
UN officials have estimated that some 100,000 people have been displaced by the fighting.
Reliable casualty figures have been difficult to come by.
Russian Colonel General Anatoly Nogovitsyn, deputy chief of the General Staff of the Russian armed forces, said Russian military casualties stood at 74 dead, 171 wounded, and 19 missing in action. Russia also claimed that 2,000 South Ossetian civilians had been killed during five days of fighting there, and that thousands more have been left homeless.
Georgian officials reported on August 12 that 200 troops and civilians had been killed and hundreds wounded.
Leaders Rally In Tbilisi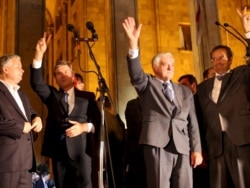 Rally In Tbilisi
Leaders from Georgia, Poland, Ukraine, Estonia, Latvia, and Lithuania speak to thousands in the Georgia capital on August 12 (Reuters video). Play


For RFE/RL's full coverage of the clashes in South Ossetia, Abkhazia, and Georgia proper,
click here
.