SINGAPORE (Reuters) -- Pakistani President Asif Ali Zardari said that his government will not negotiate with Taliban militants, adding that the attack on the Sri Lankan cricket team showed the evil the country faced.
The Pakistani leader, in an op-ed piece for "The Wall Street Journal," rejected criticism of an agreement reached last month to enforce Islamic law in the troubled Swat Valley region, saying it was part of a process to wean away people from insurgency.
"We have not and will not negotiate with extremists Taliban and terrorists," he said, adding that authorities had entered into talks only with traditional local clerics to help restore peace in the region.
"The clerics with whom we have engaged are not Taliban. Indeed, in our dialogue we'd made it clear that it is their responsibility to rein in and neutralize Taliban and other insurgents," he said.
Taliban militants announced a cease-fire and Pakistani forces halted military operations in Swat last month after a cleric, Maulana Sufi Mohammad, struck a pact with the government of Northwest Frontier Province to enforce Islamic law in the valley.
Critics in the West and Pakistan fear that by agreeing to introduce Shari'a in Swat, where militants have burnt down schools for girls and conducted public executions, the government has risked encouraging the Islamist militants by adopting policies of appeasement.
"Moreover, we have not and will not condone the closing of girls' schools in pockets of Swat Valley. Indeed the government insists that the education of young women is mandatory," Zardari wrote.
'Evil We Are Confronting'
Zardari's comments came a day after gunmen attacked the Sri Lankan cricket team in the eastern city of Lahore, killing seven people, the first major attack on an international sporting team since Palestinian militants attacked Israeli athletes at the 1972 Olympics in Munich.
Six members of the Sri Lankan team and a British coach were wounded and the squad has since returned home.
The terrorist attack against the Sri Lankan cricket team in Lahore "shows once more the evil we are confronting," Zardari said in the article.
He also touched upon a political crisis triggered by a court ruling against his arch rival, former Prime Minister Nawaz Sharif and his brother, saying this was the decision of an independent judiciary and must be respected.
Zardari dismissed the provincial government in Punjab led by Sharif's party after the Supreme Court disqualified brothers Nawaz and Shahbaz from holding elective office.
The Sharifs say Zardari was behind the court decision and their party has begun street agitation in cities across Punjab.
"In a mature polity when one loses in court, one respects the decision of the court and moves on, seeking other constitutional remedies. It is not in the nature of democracy to appeal court decisions to the streets," Zardari said.
Journalists In Trouble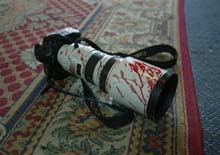 RFE/RL journalists take risks, face threats, and make sacrifices every day in an effort to gather the news. Our new "Journalists In Trouble" web page recognizes their courage and conviction, and documents the high price that many have paid simply for doing their jobs. More