U.S. President Barack Obama has kept his promise to draw down the number of U.S. troops in Iraq to fewer than 50,000 by September 1.
But uncertainty about what comes next is easy to find on Baghdad's streets.
As one man tells RFE/RL's Radio Free Iraq, while Obama kept his promise to withdraw by a certain date, "he left Iraq in a difficult situation, also in a difficult political situation. Things are not good. He should have kept his promise to the Iraqi people the way he did to the American people."
The uneasy feelings come as Iraq still has no government five months after its parliamentary elections produced no clear winner.
They also come as the U.S. drawdown makes it clear that Iraqi troops and police now must handle the remaining security problems mostly by themselves.
Under the drawdown guidelines, the U.S. forces in Iraq no longer have a combat mission, but an advisory-and-assistance role only. That means they are not expected to personally engage in fighting with insurgents but leave these operations to Iraq's own 400,000 police officers and 200,000 soldiers.
Anthony Cordesman, a regional expert with the Washington-based Center for Strategic and International Studies, says that the mission of the remaining U.S. forces is mostly to serve as a deterrent against any renewal of large-scale violence.
"Those are six combat brigades, with a total strength of around 50,000 personnel, which basically differ from combat brigades in that advisory and trainer personnel have been added to them," Cordesman says.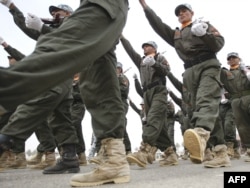 Iraqi police cadets march during training at the National Police School in Baghdad.
"They are not weak or ineffective forces. Now they are there both to serve as a deterrent to any kind of outside interference in Iraq and serve as a potential reinforcement to an Iraqi government if it needs it."
The brigades' advisory-and-assistance role means they will help provide both Iraq's civilian and military agencies with intelligence and equipment support for counterinsurgency operations. In fact, that continues a role they already switched to months ago, well before Obama's formal August 31 deadline.
"What we have seen since really June is that it is Iraqi forces which basically lead and take over virtually all of the missions," Cordesman says. "That was when U.S. forces left the cities and populated areas in Iraq and that in many ways was a de facto withdrawal from active combat that occurred months ago, not in terms of this formal deadline."
Easing Arab-Kurd Tensions
However, there still will be U.S. soldiers deployed in the field in some places.
Those deployments will be at joint checkpoints along the so-called green line in northern Iraq that divides the Kurdish autonomous region from Iraq proper. The checkpoints are jointly manned by members of the Iraqi Army, Kurdish soldiers known as peshmerga, and U.S. troops.
James Danly, a former U.S. Army officer in Iraq and a fellow at the Washington-based Institute for the Study of War, says the U.S. forces take a low-profile but necessary role in easing Arab-Kurd tensions along the green line.
"The U.S. forces that have been at these combined locations along the green line have not been the ones that have actually been stopping and searching cars," Danly says. "They have been there to lend their presence so that the relationship between the peshmerga and the Iraq Army can develop with an honest broker present during this hoped-for burgeoning friendship between the two of them."
Arab-Kurd tensions center upon territories in northern Iraq claimed by both sides, including the multiethnic oil-rich region around the city of Kirkuk. Under the Iraqi Constitution, the fate of the city is supposed to be decided by referendum but the vote has been repeatedly put off amid political quarreling and fears of violence.
Most of the U.S. soldiers remaining in Iraq will be quartered on bases near the country's still-active hot spots. The locations include near Baghdad, elsewhere in central Iraq, and near Mosul, which still has a potent Al-Qaeda presence.
As Danly puts it, "they are placed strategically so that U.S. forces' influence can still be felt in areas that need it the most." But they will not patrol -- and indeed have not been doing so since pulling back from the cities in June.
Will Sectarian Peace Hold?
Many analysts believe that U.S. forces would not get involved in combat again short of a new wave of nationwide violence like that seen during the worst days of 2006 and 2007. That was when Iraq teetered on the brink of civil war amid rampant tit-for-tat killings by Shi'ite and Sunni militias.
"As long as the conditions are as they are now, which is to say violent incidents that are isolated and are not part of some widespread, universal civil unrest, it is unlikely that the U.S. troops are going to be committed to direct action," Danly says.
Still, insurgents tied to Al-Qaeda continue to launch frequent attacks. A suicide bombing last month killed more than 60 Iraqi Army applicants. Two weeks later, a series of blasts across the country killed another 60 people.
Germany's "Der Spiegel" magazine recently reported that in August an average of five Iraqi policemen or soldiers died every day.
The challenge now will be for the Iraqi security forces to turn the tide against these remaining insurgents. The insurgents' organizations are considered to have been badly weakened by the U.S. troop surge of 2007 -- when U.S. forces numbered more than 170,000 -- and the turning of the Sunni tribes against Al-Qaeda.
Obama's drawdown strategy is based on the hope that the insurgents are wounded fatally and that Iraq's rival communities themselves would refuse to be lured again toward civil war.
The president has promised all U.S. troops will fully leave Iraq by the end of next year and that the current drawdown shows he is sticking to his commitments.
The end of the combat role for U.S. forces comes after more than 4,400 U.S. soldiers have died in Iraq. At least 100,000 Iraqi civilians are also estimated to have died from violence since 2003, when U.S.-led forces invaded Iraq to topple former dictator Saddam Hussein.