Christine Levinson, the wife of U.S. citizen Robert Levinson, who's been missing in Iran since March 9, 2007, is requesting a meeting with Iranian President Mahmud Ahmadinejad during his visit to New York this week. (The Iranian leader is expected to
attend a conference
reviewing the nuclear Nonproliferation Treaty.)
Levinson, a former FBI agent, has not been seen or heard from since he disappeared during a business trip to Iran's Kish Island. He suffers from diabetes and hypertension.
"I humbly implore President Ahmadinejad to bring the strength of his powerful office to bear, and, inspired by the mercy and compassion that live in the hearts of the Iranian people, help us find Bob and bring him home to his family," Christine Levinson says.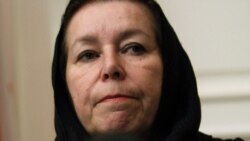 Christine Levinson
"We don't know what happened to Bob. We don't know if he has been the victim of a crime and is being held against his will, or if he may be sick or in a hospital and unable to contact us. We have heard nothing since he disappeared. But we absolutely believe he is alive and needs his family."
The Levinsons have seven children. May 11 is the couple's 36th wedding anniversary.
"One of our daughters will be married in September and it is our greatest hope that Bob will be present in his rightful place as the father of the bride," she writes. "We believe President Ahmadinejad has the power to help us find out what happened to Bob, a devoted husband and father and the head of our family."
The family asks anyone who may have information about Robert Levinson to e-mail the
family's website
.