Afghan Opposition Criticizes U.S.-Led Taliban Peace Talks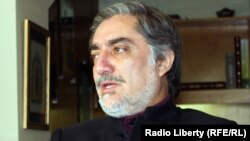 The leader of Afghanistan's main political opposition says peace talks with the Taliban need to more inclusive, following a meeting between several other Afghan opposition leaders and members of the U.S. Congress in Berlin.*
Abdullah Abdullah told RFE/RL's Radio Free Afghanistan on January 11 that he supported peace talks with the Taliban but only if they included the voices of all Afghans.
"Almost everyone in Afghanistan is supportive of peace talks with the Taliban," Abdullah said. "We, too, hold this opinion. But we will only support the peace process if it is transparent and inclusive to the people of Afghanistan."
Abdullah's comments follow a private meeting several Afghan opposition leaders -- but not Abdullah -- had on January 9 in Berlin with four members of the U.S. House of Representatives.
Peace Talks 'Flawed'
Those leaders, including the ethnic Uzbek leader General Abdul Rashid Dostum, issued a joint statement that described the peace negotiations with the Taliban as "flawed" because they excluded anti-Taliban groups who helped to topple the Taliban after the U.S.-led invasion in 2001.
"The present negotiations with the Taliban fail to take into account the risks, sacrifices and legitimate interests of the Afghans who ended the brutal oppression of all Afghans," the statement read.
In his interview with RFE/RL, Abdullah also said power in Afghanistan needs to be decentralized. He said the country needs an inclusive parliamentary system that represents all Afghans.
"A parliamentary system is needed for the people of Afghanistan," Abdullah said. "The transfer of power to a certain degree to the provinces is also needed. For example, if we have elected mayors and governors they can serve the people more effectively. In the current government all the decisions are taken by one office."
In Washington, a spokeswoman for the U.S. State Department said it had not sanctioned the meeting but had suggested that the legislators meet with the opposition leaders in Afghanistan, not Germany.
Speaking January 9, State Department spokeswoman Victoria Nuland said, "It is always better to meet Afghan representatives in Afghanistan and...we also believe it's always best when our members of Congress can see a broad cross-section of Afghan political leaders, not just a slice. But...it's within their right to meet with whomever they'd like."
The Taliban announced on January 3 that they had reached a preliminary agreement to open a political office in Qatar to facilitate peace talks with the international community.
A negotiated settlement with the Taliban to end the insurgency has become a key focus for Washington as it prepares to withdraw the majority of U.S. forces by 2014.
Taliban spokesman Zabihullah Mujahid responded to
news of a disturbing video
that appears to show U.S. soldiers urinating on the corpses of Taliban fighters by saying the clip was "barbaric" but "will not harm our talks and prisoner exchange" because the political process was in its preliminary stages.
* CORRECTION: This story has been amended to make clear that Abdullah Abdullah did not attend the Berlin meeting between Afghan opposition representatives and U.S. lawmakers.
RFE/RL's Radio Free Afghanistan contributed to this story