President Bashar al-Assad has announced that emergency law in place for almost 50 years in Syria will be lifted by next week, but he ignored popular demands to curb the security apparatus and dismantle its authoritarian system.
Assad, facing unprecedented pressure for democratic reform, had earlier pledged to replace the repressive emergency law with antiterrorism legislation, but opposition figures said this was likely to preserve tough restrictions on freedom of speech and assembly in Syria, under monolithic Baath Party rule since 1963.
"Next week is the maximum [time] limit for completion of these laws regarding the lifting of the state of emergency," Assad said in an April 16 speech to a new cabinet he named last week broadcast by Syrian state television.
He warned activists and agitators against efforts to impose "mob" rule.
"We will not be lenient toward sabotage," Assad said. Syrian authorities have blamed "infiltrators" for stirring up unrest at the behest of outside players, including Lebanon and Islamist groups.
Emergency law bans public gatherings of more than five people and served to throttle any public dissent until Syrians began taking to the streets a month ago, emboldened by popular uprisings that ousted autocratic leaders in Egypt and Tunisia.
Assad was speaking the same day that thousands marched in the southern Syrian city of Daraa, the fount of the protest wave, chanting: "The people want the overthrow of the regime," according to two witnesses.
In the Damascus suburb of Douma, 1,500 residents staged a sit-in in the main square to demand the release of 140 local people arrested in a march on the capital on April 15, two rights campaigners said. Twelve of the detainees were freed after their heads were shaved so they could be easily identified by security police if they joined future protests, they said.
In Latakia, a funeral was held for a protester who died in a pro-democracy demonstration that was broken up by security forces on April 15.
Assad said a law to allow political parties would remain under study but the issue was sensitive because it could lead either "to the breakup of society or to more national unity."

compiled from Reuters reports
Liveblog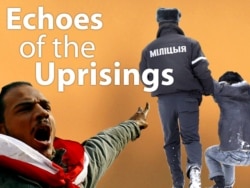 Tracking events and ideas convulsing the Arab world and with ripples around the globe, including RFE/RL's broadcast region.
Click here