One day after the region was hit by a powerful earthquake, hundreds of residents of Central Asia's Ferghana Valley have been left on the streets as they try to assess the damage.
The 6.2-magnitude quake, whose epicenter was 45 kilometers south of the Uzbek city of Ferghana, struck in the early morning hours of July 20, causing panic and damaging many buildings in the valley that straddles the borders of Kyrgyzstan, Tajikistan, and Uzbekistan.
In Uzbekistan, according to preliminary figures provided by the country's Emergency Situations Ministry, at least 13 people were killed and 86 injured.
In Tajikistan, one death was reported in the northern Tajik town of Khujand, where a 43-year-old man apparently jumped out of his second-floor apartment window to escape the quake. The man died after hitting his head on cement, Khujand hospital sources confirmed.
Officials in Kyrgyzstan say they are still surveying the damage.
One activist in Uzbekistan said that at least five people were killed and over 40 people were taken to hospital in the eastern Uzbek district of Rishton alone, not far from the Kyrgyz border.
"One victim was brought from a nearby village; four others were Rishton residents," he said. "I also contacted people in the cities of Marghelon and Ferghana, but tremors were not that strong there."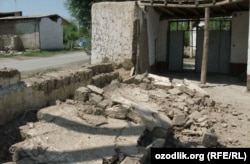 The earthquake destroyed several houses in the Uzbek city of Rishton.
The tremors were reported at 12:35 a.m. local time. They lasted for about 40 seconds, and were felt as far away as southern Kazakhstan.
Residential and office building walls cracked in many cities and villages, although there are no reports of collapsed buildings.
Local residents, many of whom spent the night on the streets, were expressing fear of aftershocks.
'It Began With A Strange, Loud Noise'
"Everyone left their homes in huge panic," said Saida, a resident of a high-rise building in the northern Tajik town of Kairokum.
"We didn't even think of taking anything, even our mobile phones. My husband and I took our children and just ran outside, barefoot in pajamas.
"Everything was shaking: doors, windows, walls. Things were falling from the walls. Our neighbor says plates and bowls were falling down from their kitchen furniture, and fortunately the falling dishes didn't hit their child's head. This was a very, very strong quake. It began with a strange, loud noise."
Reporting on the situation in southern Kazakhstan, RFE/RL correspondent Mira Muslim said that most people in that area had been "unprepared" for the situation and that it took 20 minutes for the Emergency Situations Ministry to ascertain if an earthquake had occurred before emergency sirens could be switched on to alert local citizens.
Muslim added that the majority of inhabitants in the city of Shymkent "had to spend the entire night outdoors as they did not know what to do, having neither instructions nor information from local authorities about the possibility of a repetition of the earthquake."
A Long History Of Devastating Tremors
Authorities in Kyrgyzstan said many areas in the southern city of Batken were left without electricity in the aftermath of the quake. At least one highway in the area was blocked by a landslide.
Kyrgyzstan's Emergency Situations Ministry has sent special teams to quake-hit villages to assess the damage. Officials in Bishkek have said they don't have casualty reports so far, and do not yet know the full extent of the damage.
The quake is the largest in the earthquake-prone region since a 6.3-magnitude quake hit Kyrgyzstan in 2010.
Central Asia has a long history of devastating tremors over the last century. Two Central Asian capitals, Ashgabat and Tashkent, were flattened by powerful earthquakes in 1948 and 1966, respectively, but due to Soviet-era censorship casualty figures and the full extent of the damage were not disclosed.
written by Farangis Najibullah with cooperation with RFE/RL's Kyrgyz, Tajik, and Uzbek services. RFE/RL correspondent Merkhat Sharipzhan also contributed to this report