Bahraini security forces have arrested at least six key opposition figures as part of a crackdown against Shi'ite-led protests in the Sunni-ruled island kingdom.
Bahrain has been hit by weeks of protests by the Shi'ite Muslim majority demanding political reform.
On March 16, security forces used tanks and helicopters to drive protesters off the streets of the capital, Manama.
Two protesters and two policemen died in the crackdown.
Bahrain's king has declared a three-month emergency rule and authorities have imposed a curfew in Manama.
Saudi Arabia has sent troops to Bahrain to help maintain order in response to a request for help from Bahraini authorities to other Sunni-ruled Gulf Arab nations.

International Criticism
U.S. President Barack Obama has called King Abdullah of Saudi Arabia and King Hamad bin Isa Al Khalifa of Bahrain to express deep concern over the violence.
Iran has denounced the crackdown and the presence of the Saudi-led force. Iranian state television said Shi'ite-majority Iran had recalled its ambassador to Bahrain to protest the crackdown on the mainly Shi'ite protesters in the Sunni-ruled kingdom.
Among those detained overnight were several prominent members of the largest opposition party, Wefaq.
The UN high commissioner for human rights, Navi Pillay, voiced concern today at what she called "the military takeover of hospitals," which she said was a "shocking and blatant violation of international law."
The top UN human rights official also said she had received "shocking" reports of arbitrary arrests, killings, and beatings of protesters and medical personnel in Bahrain.
A report by Amnesty International today criticized Bahraini authorities for a "systematic use of excessive force" against protesters, following the deaths of at least 12 people in the past four weeks.
compiled from agency reports
Liveblog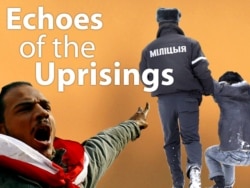 Tracking events and ideas convulsing the Arab world and with ripples around the globe, including RFE/RL's broadcast region.
Click here