The daughter of jailed Belarusian presidential candidate Uladzimer Nyaklyaeu, who was severely beaten by police on his way to an election-day protest last month, has embarked on a tour of European capitals to seek support for the country's opposition and an international response to the government's crackdown.
Eva Nyaklyaeva, 30, a Finland-based arts manager who has never before taken up political or rights issues in her country of birth, told RFE/RL that she has met with government officials in Lithuania and Poland, Belarus's two western neighbors, as well as ministers in the Czech Republic.
The Polish Foreign Ministry has already waived visa fees for Belarusian nationals as an "expression of solidarity." Warsaw is also planning a conference in February tasked with finding ways of aiding Belarus's beleaguered opposition.

RFE/RL Belarus Call-In


LISTEN: Full phone-in program with Eva Nyaklyaeva, RFE/RL Belarus Service Director Alexander Lukashuk, RFE/RL Belarus Service correspondent Jan Maksymiuk, and RFE/RL Washington bureau chief Christian Caryl.

Some 600 people, including seven of nine opposition presidential candidates, were arrested during a mass rally on December 19, in which an estimated 10,000 Belarusians took to Minsk's October Square in protest of what they say were rigged elections.

Police violently dispersed the rally, beating many peaceful protesters, including Nyaklyaeu. He and four other candidates have since been charged with organizing mass riots.

The beating left Nyaklyaeu hospitalized and unable to speak before unidentified men dragged him from his hospital bed and put him in prison.

Nyaklyaeva told RFE/RL that her father nearly died in prison after losing consciousness due to low blood pressure, and that his condition is still critical.
Belarusian presidential candidate Uladzimer Nyaklyaeu was briefly hospitalized after being beaten by police on December 19. Unidentified men then dragged him from his hospital bed and took him to prison.


"We are all the time trying to get him hospitalized because we are really afraid for his life," Nyaklyaeva said. "Now we are afraid not only for his freedom, but also for his life."

She traced the brutality of the government crackdown to Lukashenka's insecurity about remaining in power.

"We think that this reaction was provoked by the fact that [Lukashenka] was really, as any dictator, he really believes that the people love him," she said. "And for the first time, he got proof that now this is not the case -- that the people of Belarus want him out."

The official election tally, which was discredited by most foreign observers, said Lukashenka had earned some 80 percent of the vote, which would easily allow the man considered "Europe's last dictator" to remain in charge of Belarus.

Next Steps

Nyaklyaeva said she will travel to Berlin on January 11 to meet with German officials.

She will then head to Brussels, where she will appeal to leaders to look past other considerations in their response to the crackdown, including Belarus's role as a key transport country for eastern gas heading to Europe.

"I don't want to be diplomatic anymore," Nyaklyaeva said. "I am sick and tired, with all respect, of the analysts who say that in this situation it is very difficult for Europe or for the West to take serious steps because of the economic situation. To hell with realpolitik. These are human lives now on the line."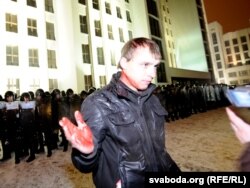 Belarusian riot police forcibly dispersed thousands of election-day protesters in Minsk. Some 600 protesters were imprisoned.

The European Parliament is due to hold a special meeting on January 12 to discuss the situation in Belarus.

Renewal of EU visa sanctions against top Belarusian officials is being considered.

The EU imposed visa sanctions on Lukashenka and 40 other officials in the wake of the last Belarus presidential election in 2006 over concerns about its fairness and a postelection crackdown on the opposition. Two years later, the EU suspended the ban for 36 of the officials after Minsk released senior imprisoned political leaders.

Meanwhile, weeks after the disputed election, authorities in Belarus contain to target the opposition.

RFE/RL's Belarus Service reports that in the southwestern city of Brest, authorities on January 10 searched four apartments belonging to opposition activists in connection with last month's protests. The office of the independent newspaper "Borisovskie novosti" was also raided.

The homes and offices of dozens of activists, journalists, and members of opposition parties have been searched throughout the country over the past several days.

with additional reporting by RFE/RL's Belarus Service

An estimated 10,000 people massed in the center of Minsk on December 19 to protest the election results.