WATCH: U.S. Vice President Joe Biden speaks in central Chisinau.By RFE/RL
CHISINAU, Moldova -- U.S. Vice President Joe Biden was in Moldova today for a brief visit to encourage reform in the impoverished nation and push for a peaceful settlement of its separatist conflict.
Biden, the highest-ranking U.S. official to visit Moldova since the country declared independence from Soviet rule, heaped praised on Prime Minister Vladimir Filat and his pro-Western government.
Speaking at a joint news conference, he said Washington firmly supported Moldova's efforts to introduce reforms after violent postelection riots ousted long-ruling communist leaders in 2009.
"On behalf of the entire [U.S.] administration, Mr. Prime Minister, I am back to reiterating to you what I did a year ago," Biden said. "To offer America's support for both the political and the economic reforms that your government is implementing, and for the important steps that you have taken to improve democratic institutions in your country."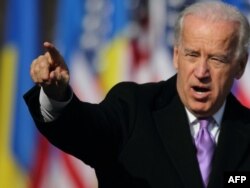 Biden delivers a speech in central Chisinau.
Biden praised the government's crackdown on the sex trade, which has earned Moldova the reputation as Europe's hub for human trafficking.
He told his host that Moldova could count on Washington in its endeavor to join the European Union -- an assurance he repeated hours later during his speech on a Chisinau square that was a focal point of the 2009 anticommunist protests.
He pledged continued financial assistance to help the small nation develop its agriculture sector, strengthen its democratic institutions, improve its business climate, and promote civil society and the independent media.
Filat, for his part, said his country was strongly committed to embracing democracy.
"Moldova wants to tell the world today that its citizens have once and for all chosen the path of democracy," Filat said. "That we are ready to fight any obstacle, that our country will no longer be isolated, that we will not allow anyone to rob people of their hope for a better future. We are doing our best to consolidate democratic instruments that will make our country a model of success."
Biden, whose visit follows two days of talks in Moscow that focused largely on trade, said the United States was keen to deepen investment in Moldova -- currently Europe's poorest country.
He said the U.S. administration was considering repealing the Jackson-Vanik amendment, a set of Soviet-era restrictions on trade with countries like Russia and Moldova.
As expected, Biden also sought to revive stalled negotiations on the so-called "frozen conflict" over Transdniester, Moldova's pro-Russian breakaway region.
"Let me be clear," Biden said. "America supports a settlement, but not any settlement -- a settlement that preserves Moldova's sovereignty and Moldova's territorial integrity. Transdniester lies within Moldova and the people of Moldova deserve an end of this dispute that has divided this country for far too long."
The small territory, home to some 500,000 residents and 1,500 Russian troops, broke away from Moldova in a war in the early 1990s. It is not internationally recognized.
Biden said he had raised the White House's concerns with Russian officials while in Moscow.
Analysts, however, say Moldovans should not expect too much from Biden's visit on the Transdniester issue.
"I don't think Moldova is, or will ever be, a priority in U.S. foreign policy since the United States is involved in two wars and must now also deal with the turmoil in Arab countries," said Vlad Spanu, who heads the Moldova Foundation, an advocacy group based in Washington.
"These are U.S. priorities, and these regions are likely to climb even higher on the U.S. agenda. In this context, Washington sees Russia as a partner who can help it tackle such problems. This is why the United States doesn't interfere too much with Russia's interests in places like Moldova, Georgia, Ukraine, Belarus, and other countries in Eastern Europe."
Biden was scheduled to hold talks with acting President Marian Lupu before leaving Moldova late today.
written by Claire Bigg, based on reporting by RFE/RL's Moldovan Service