The United States and other countries have recognized Libya's rebels as the country's legitimate government in a major blow to the embattled regime of Muammar Qaddafi.
U.S. Secretary of State Hillary Clinton announced the recognition of the rebels' National Transitional Council as Libya's governmental authority at a meeting of the Contact Group on Libya held in Istanbul.
"Until an interim authority is in place, the United States will recognize [the Transitional National Council] as the legitimate governing authority for Libya, and we will deal with it on that basis," Clinton said.
"In contrast, the United States views the Qaddafi regime as no longer having legitimate authority in Libya."
The decision is significant because diplomatic recognition potentially frees up some of the
$30 billion in frozen U.S. assets
that the rebels fighting Qaddafi's forces urgently need if they are to break the stalemate in the civil war, which started as a popular uprising five months ago against Qaddafi's 41-year rule.
Clinton acknowledged as much when she said the United States was pleased that members of the Contact Group "have contributed money to the temporary financial mechanism or...provided direct financial support" to Libya's main opposition group, the National Transitional Council (NTC).
"We still have to work through various legal issues, but we expect this step on recognition will enable the [rebels] to access additional sources of funding," Clinton added.
Qaddafi Has 'No Authority'
NATO has been supporting the opposition in their drive to oust Qaddafi since late March under a UN resolution that authorized military action to protect civilians, whom government troops had begun targeting.
Opposition forces now control much of the country's east and isolated pockets in the west but have been unable to weaken Qaddafi's grip on power in the capital of Tripoli.
But the military ruler some call the "Madman of North Africa" has long since lost his standing with the international community.
A statement issued on July 15 by the Contact Group -- which comprises 32 countries that belong to NATO, the European Union, and the Arab League -- declared that Qaddafi's regime "no longer has any legitimate authority in Libya."
The group said from now on it would consider the NTC "the legitimate governing authority in Libya" until an interim authority is in place.
The statement urged a smooth transition to democracy and ruled out participation of "perpetrators of atrocities against civilians" in a future political settlement.
"The process should lead to national reconciliation," it said. "All groups should have their voices heard."
U.S. officials said that when Clinton announced Washington's decision to officially recognize the rebel group, Contact Group representatives broke into spontaneous applause.
In her remarks, the U.S. secretary of state said the people of Libya were "increasingly...looking past Qaddafi" and "know, as we all know, that it is no longer a question of whether Qaddafi will leave power, but when."
She predicted that for Tripoli, the "costs of holding onto power will continue to grow."
In a background briefing on July 14, a senior State Department official said, "NATO operations continue at a very high pace," citing 5,000 air sorties since the start of the mission in late March. "We continue to believe that time is on our side," he added.
In Libya, rebel spokesman Mahmoud Shammam welcomed the recognition of the NTC and called on other countries to deliver on promises to release hundreds of millions of dollars in funds to the Libyan opposition.
He said the opposition hoped to hold elections within a year and to resume oil exports very soon, as the damage to oil facilities in fighting has been minimal and is repaired.
Qaddafi Defiant
The Libyan leader, however, shows few public signs he is ready to give up power. He told a rally in a town 80 kilometers west of Tripoli that he would "fight to the end" and that "the end of NATO will be in Libya."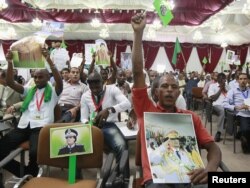 Pro-Qaddafi Libyans chant slogans during a conference of Libyan tribes in a tent in Tripoli on July 14.
Ahead of the Contact Group's meeting today, Libyan government spokesman Moussa Ibrahim said Qaddafi loyalists were ready to die in defense of the country's oil against attacks by the rebels and NATO forces. "We will kill, we will die for oil. Rebels, NATO, we don't care," he said. "We will defend our oil to the last drop of blood and we are going to use everything."
In a speech broadcast on state television on July 14, Qaddafi urged his loyalists to take up arms to attack Libya's enemies and "smash NATO!"
He said, "Crashing waves of angry masses, rising to the challenge with high heads and loud voice saying we will never surrender!"
Russia's presidential envoy to Libya said Qaddafi was far from defeated, with plenty of weapons -- like surface-to-surface missiles -- to fight much longer.
Quoted by the Russian newspaper "Izvestia", Mikhail Margelov said: "Qaddafi has not yet used a single surface-to-surface missile, of which he has more than enough. This makes one doubt that the regime is running out of weapons."
NATO Secretary-General Anders Fogh Rasmussen, meanwhile, called on alliance members to provide more warplanes to bomb Libyan targets.
He was speaking in The Hague after talks with Dutch Prime Minister Mark Rutte, who said Dutch planes would not now take part in bombing Libya.
Analysts say NATO's four-month campaign in Libya has put strains on the alliance. France and Italy, especially, have been pushing for a negotiated deal to end the Libyan conflict.
Qaddafi's government announced on July 14 it would stop cooperating with the Italian oil firm Eni, the biggest foreign investor in Libya's energy sector. Analysts say Eni angered the Qaddafi government by beefing up ties with the rebels and pulling out staff when the rebellion started.
China said it would skip today's meeting in Istanbul because Beijing said it needed to study the way the Contact Group operated.
China has established ties with the rebels, but opposes the NATO bombing campaign and urges a negotiated settlement.
On the ground, Libya's government spokesman says that a coordinated land, sea, and air attack by rebels and NATO forces against the eastern oil city of Brega was repulsed on July 14.
There was no comment from NATO or the rebels.
compiled from agency reports