U.S. officials now say it was surveillance of Osama bin Laden's compound from a nearby CIA safe house in Abbottabad, Pakistan, that led to his killing by a U.S. commando team.
The revelation is among the latest details emerging about the May 2 raid that are helping to create a bigger picture about the raid by the U.S. Navy SEAL team.
Quoted in "The New York Times" and "The Washington Post" newspapers, the U.S. officials said the CIA safe house was established after bin Laden's hideout was discovered in Pakistan last August.
The reports say CIA officers spent months monitoring the fugitive Al-Qaeda leader's hideout by watching and photographing residents and visitors from a rented house nearby. The safe house became a base for intelligence gathering so extensive that the CIA asked Congress to reallocate tens of millions of dollars to fund it.
Observing from behind mirrored glass, the CIA officers used cameras with telephoto lenses and infrared-imaging equipment to study the compound. They also used sensitive eavesdropping equipment to try to pick up voices from inside the house and to intercept mobile-phone calls while a satellite searched for possible escape tunnels.
Pakistani Anger
On May 5, Pakistan's military issued its first official response about the covert U.S. raid. The angry statement, released after the country's 12 top generals met with army chief Ashfaq Kayani, demanded a reduction in the number of U.S. troops in Pakistan to the "minimum essential" level.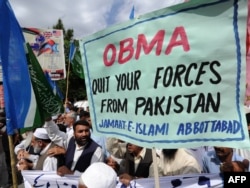 Activists of Pakisyan's largest religious political party, Jamaat-e Islami, shout anti-U.S. slogans during a protest rally in Quetta on May 6.
It also threatened to halt Islamabad's counterterrorism cooperation with the United States if a similar unilateral strike is launched in Pakistani territory.
Kayani announced a probe to determine how the U.S. raid was able to penetrate so deep into the country-- just 50 kilometers north of Islamabad -- without being detected by Pakistan's defense forces.
One possible explanation is the revelation today that the helicopters used in the raid appear to have been radar-evading, top-secret, and never-before-seen stealth versions of the helicopters usually used by U.S. commando teams.
One of the four helicopters made a hard landing at bin Laden's fortress-like compound and was destroyed by the commandos at the site, leaving behind wreckage for aviation experts to analyze.
For years, Islamabad had angrily denied reports and allegations that bin Laden was hiding within Pakistani territory. The May 5 statement from Pakistan's military acknowledged "shortcomings in developing intelligence on the presence of Osama bin Laden in Pakistan."
But it pointed out that Pakistan's Inter-Services Intelligence (ISI) agency has arrested or killed about 100 Al-Qaeda terrorists and associates with or without CIA cooperation.
The statement also said Pakistan had provided the initial intelligence on the whereabouts of bin Laden to the CIA, but it said the United States developed that intelligence further and did not share it with the ISI "contrary to the existing practice between the two services."
WATCH: The religious Jamat-e Islami party staged a protest on May 6 in Abbottabad, the city in Pakistan where the U.S. forces killed Osama bin Laden on May 2. Some 400 protesters chanted anti-U.S slogans.
Women Give Their Account
Meanwhile, a Pakistani intelligence official said today that one of three wives living with Osama bin Laden told Pakistani interrogators that she had been staying in the hideout for six years without leaving its upper floors.
The woman, identified as Yemeni-born Amal Ahmed Abdulfattah, and two other wives of bin Laden are being interrogated in Pakistan after being taken into custody after the U.S. commando raid. Pakistani authorities are also holding eight or nine children who were found at the compound after the U.S. commandos left.
The wives' accounts are expected to show how bin Laden spent his time at his hideout and how he avoided capture. With conflicting and incomplete accounts from U.S. officials about what happened during the raid, the wives' testimonies may provide additional details about the raid.
Pakistani officials have quoted the women and children as saying that bin Laden and his associates had not offered any "significant resistance" when the U.S. commandos entered the compound -- partly because the Americans had thrown stun grenades that had disoriented them.
Pakistani authorities found an AK-47 and a pistol in the house that belonged to the residence, with evidence that at least one bullet had been fired from the assault rifle.
U.S. Collects Intelligence From Hideout
That account is roughly consistent with the most recent one given by U.S. officials, who now say that one of the five people killed in the raid was armed and fired shots.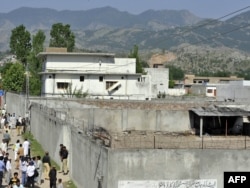 Police, journalists, and local residents gather outside the compound Osama bin Laden was hiding on May 3.
That version of the raid is different than the initial story of an intense and lengthy firefight described by the White House and others in President Barack Obama's administration.
U.S. officials say four men were killed alongside bin Laden, including one of his sons and one of bin Laden's most trusted couriers, Abu Ahmed al-Kuwaiti -- who has been identified by neighbors as the man who used the fictitious alias of Arshad Khan and was assumed by locals to be the head of the household.
Meanwhile, U.S. officials have told "The New York Times" that intelligence gathered from computer files and documents seized at bin Laden's compound shows that bin Laden had orchestrated Al-Qaeda attacks for years from the Pakistani town.
They also said the documents show Al-Qaeda may have been planning a strike on U.S. railways later this year on the 10th anniversary of the September 11, 2001, attacks.
One U.S. official said there was no indication from the intelligence that further plans had been drawn up for the railway plot or that steps were taken to carry it out. The U.S. Department of Homeland Security said it had no information of an imminent threat.
Accusations Against Pakistan
Islamabad has been deeply embarrassed by the fact the world's most-wanted terrorist was able to build his compound near a major Pakistani military academy and close to the homes of many retired Pakistani generals.
One national newspaper, "Dawn," has compared the humiliation with the admission in 2004 that Pakistan's top nuclear scientist, Abdul Qadeer Khan, had sold the country's nuclear secrets.
The location of bin Laden's compound has caused outrage among many Americans -- leading to accusations that Pakistani officials deliberately gave refuge to the Al-Qaeda leader and have been lying about Islamabad's cooperation in the war on terror.
That prompted Pakistani Foreign Secretary Salman Bashir to issue a formal denial at a news conference in Islamabad on May 5.
"It's easy to say that the Inter-Services Intelligence, elements within the government were in cahoots with Al-Qaeda," Bashir said. "This is a false hypothesis. This is a false charge. It cannot be validated on any account."
Two U.S. lawmakers are calling for Washington to cut all U.S. aid for Pakistan and end to the United States' strategic cooperation with Islamabad.
compiled from agency reports