The end triggered a tsunami-like outpouring of human emotion, expressed in the deep atavistic roar of elation that filled central Cairo as news of President Hosni Mubarak's departure filtered out.
Not since the fall of the Berlin Wall in November 1989, and the jubilant scenes of East Germans rushing across to the West, has the world witnessed such a tidal wave of humanity on the march.

Cairo's display of mass delirium over what -- with apologies to Tunisia -- must now be acknowledged as the first great revolution of the 21st century was another reminder that we have not yet reached the end of history, in the (subsequently rescinded) words of historian Francis Fukuyama.
It is also a sobering lesson to the Obama administration, caught unawares by the sudden crisis and forced to lurch from one policy stance to another as the position of Mubarak, a stalwart U.S. ally, became increasingly untenable.
More fundamentally -- and more worryingly -- for President Barack Obama, the swell of anti-Mubarak sentiment served to illustrate how a U.S. president can be hoisted by his own petard as the unsavory natures of some of his country's friends fulfill themselves.
"To those who cling to power through corruption and deceit and the silencing of dissent, know that you are on the wrong side of history, but that we will extend a hand if you are willing to unclench your fist."
Those words, spoken in Obama's inauguration address two years ago, referred to Iran, subject at that time to tentative -- and since shelved -- U.S. efforts at rapprochement. But the events of the past three weeks have exposed the uncomfortable truth that some of those on the "wrong side of history" can also be on the side of the United States.
Wind Of Change
It is a disquieting conundrum as we contemplate the possibility that Egypt's political earthquake will unleash a wind of change in other undemocratic Arab states friendly to the United States.
Where that change will lead is far from obvious. It is certainly unclear in Egypt, where Mubarak's sudden abdication has resulted in power being transferred -- ostensibly on a temporary basis -- to the country's Supreme Military Council.
Thus, the fate of a great democratic movement now rests in the hands of a body headed by Field Marshal Mohammed Hussein Tantawi, 75-year-old commander of the Egyptian armed forces, presumed ally of Mubarak, and a man not known to favor reform.
The army has said it will not act as a substitute for a "legitimate" government, but the fact that it now occupies the pivotal position in the Egyptian political firmament reveals the fragility of this mass experiment in democracy. Armed forces the world over are not renowned for their democratizing instincts, particularly in countries with long traditions of authoritarian rule.
That thought may have been uppermost in the minds of many exultant Egyptians last night, even as they absorbed the military's role in forcing their recalcitrant 82-year-old president from power.
"We didn't come all this way through demonstrations to be ruled by the army," one young woman told the BBC.
Not The Ideal Backdrop
Yet anyone who has visited Egypt during the current crisis will have witnessed how militarized the society has become.
On a brief visit recently
, I saw how tanks had been placed at every major intersection on the road leading into Cairo in response to the escalating security situation.
At some points, long lines of tanks were stationed on the road in apparent quick-deployment readiness in what seemed to be evidence of de facto martial law.
It hardly looked the ideal backdrop for a transition to stable democracy, orderly or otherwise. And according to Robert Danin, senior fellow for Middle East and Africa Studies at the New York-based Council on Foreign Relations, the army's paramount role might not be the only drawback.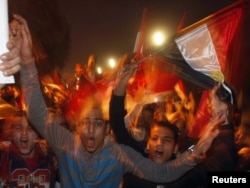 Protesters celebrate Mubarak's resignation on Tahrir Square on February 11.
"The demonstrators' key demand that the president stand down has been met; the army has said that they will endorse and implement all of the demonstrators' demands," Danin says. "But it has to be done. Egypt under Mubarak had successfully eviscerated the opposition, had successfully broken many of the elements that we have come to know as civil society.
"So to move from that picture to a democratic rule in a very short order is a herculean task. Democracy is not just about elections. It's about putting all the institutions in place that can function for elections to take place in a truly democratic way."
The conditions, in other words, for a smooth transformation to a Western-friendly democracy may not exist in a country where the best-organized opposition movement, the Muslim Brotherhood, remains banned and the outcome of elections are routinely fixed.
Military Considerations
Mubarak, lest it be forgotten, was a son of the Egyptian military, having served with distinction in the 1973 war with Israel as an air force commander. His rule -- distinguished by a 30-year state of emergency imposed after the assassination of his predecessor, Anwar Sadat, by pro-Islamist soldiers -- was very much founded on military principles.
Likewise, Egypt's strategic relationship with the United States is driven by military considerations, as evidenced by the estimated $1.5 billion in aid Washington annually gives the Egyptian armed forces, a spinoff of the 1979 Camp David peace accords with Israel.
Those accords are central to U.S. -- and Israeli -- interests in what happens next.
For all of Obama's warm welcome of "history unfolding" in Cairo, logic dictates that the United States needs at least some of the status quo to survive: a revolution yes, but not a full-blown Iran-style radical Islamist job that brings to power a regime of anti-Western rejectionists, perhaps led by the Muslim Brotherhood, that will renounce peace with Israel.
That's a perilous balancing act.
The Obama administration, for its own credibility's sake, needs to press Egypt's armed forces to forge ahead with a democratic transformation consistent with America's stated ideals. Yet it cannot be sure where that will lead. Ditto with the rest of the Arab Middle East.
Unlike the collapse of the wall, Egypt's "Berlin moment" is no guaranteed triumph of U.S. interests and values because America's image has suffered through its friendship with despotic Arab regimes.
Meanwhile, in Tehran, another government of despots -- the religious theocracy of Iran's Supreme Leader Ayatollah Ali Khamenei -- has affected, disingenuously or not, to hail events in Egypt as vindication that the historic tide moves in its direction.
This "right side of history" business is no easy matter.