Protesters have clashed with police outside of the court where the trial of ousted Egyptian President Hosni Mubarak is resuming.

Mubarak is being tried for corruption and complicity in the killing of protesters during the uprising that toppled him from power in February.

As had happened at two earlier court hearings, angry opponents of Mubarak gathered outside of the police academy building in a Cairo suburb where the trial is continuing.

Police stepped in after about 150 Mubarak supporters arrived with posters and began chanting slogans in support of the ousted leader.

Nearby, the crowd of anti-Mubarak demonstrators began hurling stones and bricks at police, who used their shields to deflect the projectiles.

As police countercharged, some officers hurled back the bricks and stones that had been thrown at them while others used their batons to beat back the protesters.

Authorities say one member of the Central Security Forces was injured in the melee and was transferred to a hospital after being hit in the head with a brick. Security forces arrested a man thought to be responsible.

Police Testify In Court

Inside the courtroom, senior police officers are testifying at Mubarak's trial -- the first witnesses in a case that has fueled simmering tensions between the ousted Egyptian president's supporters and opponents.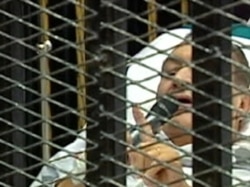 Earlier televised sessions had shown the ailing Hosni Mubarak attending the trial while lying on a hospital bed inside a cage.
Mubarak is charged with ordering the killing of protesters during demonstrations against his regime across Egypt during the spring.
More specifically, the public prosecutor has accused Mubarak of conspiring with Adli Fayed, deputy minister for general security, and with some other senior police officers in premeditated murder and "attempting to kill some of the participants of peaceful protests across the country."
About 850 people were killed in the uprising that ended Mubarak's rule and more than 6,000 wounded.
Mubarak has also been accused of "inciting" some officers to use live ammunition to fire at protesters as well as running protesters over with their vehicles, so that the former president could "protect his grip on power and stay in office."
The prosecution says the police officers testifying as witnesses today had worked in a police-operations room during the uprising.
No More Live Broadcast
The ailing Mubarak made his first appearance at the Cairo court on August 3.
Unlike two earlier court hearings that were televised -- allowing Egyptians to watch their 83-year-old former ruler being wheeled into a cage in a court hospital bed -- the judge in the case has banned television coverage of the proceedings while police are testifying.
Judge Ahmed Refaat cited the need to protect witnesses' testimony as the reason for banning cameras.
Lawyers have applauded the decision, saying it was necessary to prevent witnesses from being influenced by each other and by public opinion.
Mubarak is the first Arab leader to stand trial in person since popular uprisings began sweeping the Middle East earlier this year.
Mubarak is standing trial with his sons Gamal, once viewed as being groomed for the top office, and Alaa, as well as Fayed, former Interior Minister Habib al-Adli, and five other police officers.
Mubarak, who ruled Egypt for 30 years, is undergoing treatment for heart problems and other ailments.
compiled from agency reports