As many as a quarter of a million Egyptians filled the streets of Cairo on February 8 to call for President Hosni Mubarak's resignation and for the first time since the demonstrations began on January 25, thousands of protesters marched on the Egyptian parliament to press their demands.

Demonstrators chanted, "We won't go, we won't sleep until the fall of the regime."

Among the crowd were government employees, including about 5,000 university professors and teachers, who earlier were blocked by security forces from joining the protests.

A group of over 1,000 protesters broke away from the square and marched on parliament, several blocks away, chanting, "Illegitimate, illegitimate," and demanding it be dissolved. Several hundred of them prepared to stay through the night, beating drums and lying on the pavement in front of the building.

Rallying Figure

The massive protests were buoyed by enthusiasm surrounding the release of Wael Ghonim, the 30-year-old Google executive who was detained two weeks ago by the state for helping organize the first wave of protests. His release and appearance in Tahrir Square breathed new life into the opposition and provided a galvanizing central figure for people to rally around.

Following the broadcast of an interview with an Egyptian satellite station, Ghonim made a brief but emotionally charged appearance in the square to encourage the demonstrators to continue their demand for democratic change.

He told the crowd, "I'm not a hero but those who were martyred are the heroes. This is not the time for individuals, or parties, or movements. It's a time for all of us to say just one thing: Egypt above all! Egypt above all! Egypt above all!"

Protesters camp out in Tahrir Square.
The crowd responded with cheers, whistling, and thunderous applause.

Concessions Not Enough

Mubarak's appointment of a new cabinet, his pledge to not seek reelection when his term expires in September, and the new government's invitation to opposition groups to chart a path of reform has not mollified the antigovernment demonstrators, who say they will continue the protests until Mubarak himself resigns. The 82-year old leader has ruled the country for 30 years.

Huge crowds turned out all across the country: tens of thousands marched in Alexandria, thousands turned out in Mansoura, and some 9,000 protesters gathered in the cities of Ismailia and Suez.

The return of mass protests in Cairo came after two days of relative normalcy, with shops and banks reopening and traffic returning to streets that had been blocked for the past two weeks by security checkpoints and crowds of demonstrators.

In talks with opposition figures on February 6, Vice President Omar Suleiman offered some concessions, including agreeing to a proposal to appoint a panel of judges and scholars to recommend constitutional changes within a month. He also said the authorities would open an office for complaints about the treatment of political prisoners, loosen restrictions on media, and lift an emergency law "depending on the security situation."

Representatives of the protesters say those moves don't go far enough.

Egypt's largest opposition group, the outlawed Muslim Brotherhood, said it would only continue negotiations if all the protesters' demands were granted -- including the immediate resignation of Mubarak, constitutional amendments, freedom of press, and an end to Egypt's state of emergency.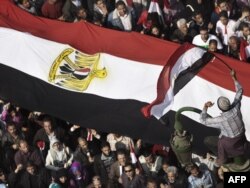 A protester waves a national flag as he sits on an electricity pole.
'I Am Not A Hero'

Ghonim, a marketing manager for Google's Middle East and North Africa operations, admitted in an interview with Egypt's private Dream satellite station that he was behind the Facebook page that helped spark the protests on January 25.

He said the movement had turned from "the revolution of the Internet youth ... to the revolution of all Egypt," but broke down in sobs when he heard that hundreds of Egyptians had died in the protests. And he rejected attempts to label him a hero:

"We want our country to change. I ask you, really, please don't turn me into a hero. I am not a hero, okay? I am not a hero. I am a very ordinary person. The heroes are the ones on the street. I have been asleep for 12 days," he said.

"Please, everybody, I ask you......We won't leave our country until we change it. And we will take our rights; we will take them. That's it," he added.

Some 130,000 people have joined a Facebook page titled, "I delegate Wael Ghonim to speak in the name of Egypt's revolutionaries." In a statement released on Twitter, Google said: "Huge relief--Wael Ghonim has been released. Our love to him and his family."

The antigovernment demonstrations have spurred Egyptian workers to stage strikes and demonstrations of their own in support of higher wages and better working conditions.

Near Tahrir Square on February 8, some 300 Telecom Egypt employees waved banners and chanted for higher pay. Protesters said the demonstration was not connected to anti-Mubarak demonstrations but rather, aimed at improving the lives of the mostly state-owned landline operator's employees.

Around 200 employees of the same firm also protested in the port city of Suez, which is also where 1,300 steel company workers have gone on strike. Around 3,000 workers in companies owned by the Suez Canal authorities and based in Ismailia and Suez went on strike over pay and conditions, but this did not affect Suez Canal operations.

Workers in canal-owned companies in Port Said plan to go on strike February 9.

with agency reports.