(WATCH: RFE/RL's Balkan Service asked people on the streets of Sarajevo and Belgrade for their reactions to the arrest of war crimes fugitive Ratko Mladic in Serbia.)
SARAJEVO/BELGRADE -- If the city tasked with catching him is breathing a sigh of relief, the city he victimized is asking bitterly why it took so long.
A mix of grim satisfaction and skepticism was in evidence on the streets of Sarajevo on May 26, hours after Serbian President Boris Tadic confirmed that Ratko Mladic, the man believed to be responsible for the worst atrocities of the Bosnian war, had been captured after 15 years as a fugitive.
Standing on a sunny street in the center of a city that was devastated after Mladic, the former Bosnian Serb military commander, ordered his troops to fire shells and snipers at civilian targets, resident Rasema Graca said she was glad to see Mladic in custody at last -- but believed it could have happened much sooner:
"It should have been done a long time ago. I know that Serbia provided huge amounts of money to help him hide," Graca said, adding that it was done in order to get Serbia into the European Union.
Mirsad Efendic, a Bosnian man in his 50s, echoed the sentiment. He said Mladic's arrest after 15 long years was motivated not by outrage over his crimes -- including the slaughter of 8,000 Muslim men and boys in Srebrenica in 1995 -- but by political concerns in Belgrade.
"He surrendered for them, so that Serbia could join the EU faster. The fact that people were killed doesn't concern anyone," Efendic said.
Step Toward EU Integration
In Belgrade, many Serbs acknowledged that Mladic's capture represented an important step forward for Serbia's European integration. The EU has repeatedly made the handover of Mladic -- who was believed to be living freely in Serbia under protection of army comrades -- a condition for entry into the bloc.
Many Serbs who have seen economic conditions crumble at home have longed desperately for a change after years of being shunned by Europe. To people like Bruno Vekaric, Serbia's deputy war-crimes prosecutor, Mladic's capture is a welcome opportunity.
"Today Serbia starts to deal with the future. Until now, we were hostages of Ratko Mladic. This is a great relief for all of us, and this is something we've dreamed of for a number of years," Vekaric said.
But others in Belgrade acknowledged the human cost of Mladic's ruthlessness. A small group of residents gathered in Belgrade's central square waving posters with Mladic's image and the words "Death, Wire, Srebrenica."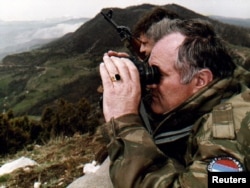 General Ratko Mladic monitors a battle against Bosniak forces from his shelter some 4 kilometers from the center of the eastern Bosnian city of Gorazde in April 1994
Sonja Biserko, the head of the Helsinki Committee for Human Rights in Serbia, says his arrest was a reminder to acknowledge Serbia's role in wartime crimes.
"This is the end of a very painful part of Serbian history from the last 20 years. And what's important for me at this moment is that it isn't seen as something that was done solely for the purpose of getting Serbia candidate status with the European Union," Biserko said.
"I want to see this as a real moment of facing our past. This is extremely important, particularly for the sake of our young people, who have to know what happened in the past, and why it happened."
Not everyone was pleased by the news of Mladic's arrest in Serbia, where many people still view him as a national hero. Radovan Mihajlovic and Sasa Jeftic, two residents of the capital, expressed outrage and regret over his capture.
"I'm very sorry for my wartime commander. He didn't deserve this. In my opinion, they shouldn't have done it. It was shameful and pathetic. It's treason," Mihajlovic said.
"I can't believe this is true. I don't know what to say. I don't think it should have been done. He's our man after all, regardless of what he's done," Jeftic said.
Such sentiments suggest that Tadic may face a political backlash within Serbia for being the man who finally summoned the political will to turn over a man many still regard with admiration.
Tomislav Nikolic, the head of the radical Progressive Party and a threat to Tadic as the country approaches a presidential election in 2013, took issue with Tadic's assertion that Serbia had done all it could to turn over Mladic as quickly as it could.
"Who saw that man [Mladic] yesterday? Who recognized him? Is it possible that Serbia knew all along where he was? Why was it decided that he would be detained only today?" Nikolic said.
Srebrenica Widows
Many of Mladic's victims in Bosnia appear to be asking the same question. For many of the widows who lost their husbands and sons in the Srebrenica massacre, Mladic's 15 years of freedom have served as a painful reminder of the years spent without their loved ones.
Widow Zumra Sehomerovic told Reuters that Mladic's capture is more bitter than sweet.
"Deep in my soul there may be a bit of satisfaction, because by God's law and any other law, criminals should be held accountable for their acts. But at the same time, all the memories are coming to the surface again, and I remember all the people who were killed there and are not with us now, because of crimes that were rewarded with 15 years of freedom," Sehomerovic said.
Even the realization that Mladic will now be transferred to the Hague war-crimes tribunal gives few in Sarajevo the feeling that justice will finally be done.
Belgrade resident Sefet Rizic, recalling the comparative luxuries enjoyed by many of the Hague's high-profile indictees -- including Vojislav Seselj, the former Serb paramilitary commander and founder of the Serbian Radical Party, whose trial in the Hague has been continually postponed by bureaucratic snafus, and who has demanded compensation for his time in detention -- says he expects Mladic will enjoy similar comforts.
"It's so sad that this is happening 15 or 16 years after the war ended. Now Mladic will go to The Hague and he will have nice accommodation and TV to watch," Rizic says.
"You kill 8,000 people and then you are given a TV and table tennis, even a pool. He can even follow the Seselj's example and ask for 10 million euros in compensation."
Reported by Balkan Service correspondents Branka Mihajlovic, Iva Martinovic, and Tina Jelin. Written by Daisy Sindelar in Prague
Balkans War Crimes
The Balkans Face Their Wartime Ghosts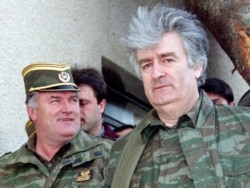 Bosnian Serb wartime leader Radovan Karadzic (right) and General Ratko Mladic in 1995
Poll: Most Serbs Support Mladic
EU Puts Pressure On Serbia To Arrest Mladic
Mladic Video Increases Pressure On Serbia
In Croatia, One Step Forward, Two Steps Back
Time For Serbia To Issue A Warrant For The Truth
Serbs Honor Srebrenica Victims With Shoe Memorial
Justice And Therapy In Yugoslav War Crimes Trials