VITSEBSK, Belarus -- Police in the Belarusian city of Vitsebsk have questioned locals in connection with the investigation into the April 11 Minsk subway bombing that killed 13 and left some 200 injured.
Although Russian Internet sources have reported the names of three Vitsebsk residents who have purportedly been detained and confessed to the bombing, Belarusian authorities have refused to confirm or deny any information appearing in the media.
Prosecutors expect to file formal charges against the suspects on April 23.
Investigators have been going door-to-door in Vitsebsk's industrial DSK neighborhood, local residents told RFE/RL's Belarus Service.
"On April 18, for the first time, after a week had passed, the doorbell rang. A representative of the police shows up and says: 'Look, we are here at the request of the Prosecutor-General's Office. You know what happened here?'" one resident says.
"He didn't even say concretely what. He didn't name any names. And I didn't ask," the man continues. "He says: 'Well, maybe you heard something. You live here.... Some noise in the basement? Maybe some banging? Maybe you smelled something? Some sort of chemicals or explosives?'"
After this man answered the questions negatively, the police officer left.
The cellar in the building where the bomb work allegedly happened is still open to the public.
Another woman -- who lives in the same building where the three men whose names have been reported in the media as suspects live -- told a similar story.
"He came and he asked if we'd heard any explosions," the woman recalls. "He said, 'Well, since you live here, maybe you heard something, maybe someone was experimenting here or something exploded.' That's our police. When there are fights or something like that, they come around and ask us such questions. Our neighborhood is not boring."
Investigation Under Way
Prosecutors have said the suspects constructed the explosive in a "laboratory" in the basement of the building where they lived. But the basement of the building where the men named in the media lived remains accessible and shows no sign of a police investigation.
Other Vitsebsk residents tell RFE/RL they have been warned not to speak with journalists at all. Administrators at state enterprises have told workers that spreading rumors could result in dismissal.
The two men who have been reported to be the main suspects in the case -- Dzimitry Kanavalau and Ulad Kavalyou, both 25 years old -- are longtime friends and were students together at local public school No. 35.
The mother of a student who attends the school now says that teachers are terrified. "They are waiting for an inspection to find out how class time is spent, to study how ideological work is conducted at the school in general," she says. "Everyone is afraid."
'99 Percent Sure It Was Him'
Ivan Shyla, an activist with the opposition Youth Front group in the town of Salihorsk, says that he served with Kanavalau in the army in 2009 near the town of Lepel. Shyla, who is in Poland now, says he has been in contact with other men who served in the unit, who reported they had also been questioned by police in connection with the Minsk bombing.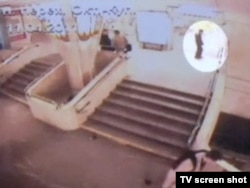 Ivan Shyla says he is "99 percent sure" the figure in the video is the suspect.
Shyla says he recognized Kanavalau from a security video of the bomber that was released by the authorities. "I'm 99 percent sure it is him," he says. "You can't see much in the first bit, but at the end, when he is leaving the subway after the explosion, it is him for sure. I don't think anyone could look that much like him."
Shyla says he remembers Kanavalau as a middling soldier who nevertheless was made junior sergeant and who had a basic knowledge of chemistry.
He also says Kanavalau discussed a 2005 bombing in Vitsebsk and a 2008 bombing in Minsk, crimes that authorities say the subway bombers have also confessed to carrying out. Kanavalau asked Shyla what he thought about the bombings, who might have carried them out, and whether the perpetrators would ever be caught.
Shyla adds that he heard that Kanavalau's father, who repairs watches, has also been arrested in the case.
Interior Minister Anatol Kulyashou told journalists on April 18 that "dozens of criminal cases" had been filed in connection with a nationwide sweep for weapons and explosives following the Minsk bombing. He said that 10 kilograms of explosives and more than 150 "explosive devices" had been confiscated, as well as 174 unregistered weapons.
Kulyashou urged Belarusians to voluntarily hand over any unregistered weapons in their possession, saying they would not be held criminally liable if they came forward.
Cracking Down On The Press
Meanwhile, several leading independent media outlets have been given official warnings regarding their coverage of the Minsk subway bombing and its aftermath.
The newspaper "Nasha niva" was
warned over an interview
with a former army special services colonel who speculated that the bombing was carried out by forces within the regime of President Alyaksandr Lukashenka who were seeking to destabilize the country.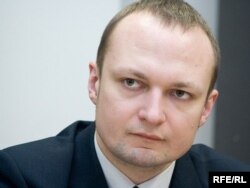 "Nasha niva" editor Andrey Skurko denies his paper was trying to discredit the authorities.
"In our response we wrote our opinion of these events and that the newspaper space called 'Commentary And Opinion' is intended for the placement of various opinions concerning events that are important to society," "Nasha niva" editor Andrey Skurko. "We had no intention of sowing fear or panic in society or of discrediting any official agencies or organs of power with this article."
Skurko says the paper will appeal the warning.
The Internet publication "Salidarnasc" has also been warned in connection with its coverage of the bombing. The nonstate "Narodnaya volya" newspaper was issued a warning in connection with an article about a Minsk demonstration on December 19, at which the opposition protested Lukashenka's reelection as president.
Following that demonstration, the authorities launched a major crackdown on the opposition. Trials of activists arrested at the demonstration have been ongoing in Belarus for the last month and some have been given harsh prison terms.
Andrey Aleksandrau, deputy director of the Belarusian Association of Journalists, sees the press warnings as another ominous development.
"The warnings are definitely part of a chain of pressure that independent journalists have been experiencing in recent days," Aleksandrau says. "The authorities have long demonstrated a desire for total control of the information sphere. So it is obvious that journalists that are not under state control are an irritant. So examples of high-quality and responsible journalism that is aimed at informing audiences rather than serving the government -- these are accused of sowing panic and other things."
'Fifth Column'
In an
annual state-of-the-nation speech
to parliament on April 21, Lukashenka warned of a "fifth or sixth, or 25th, column" targeting his administration and vowed to destroy it.
"We will destroy any fifth, or sixth, or 25th column and we have enough resources to do that," Lukashenka said. "This doesn't mean that a dictator is trying to break down society or build a dictatorship in the center of Europe."
He has repeatedly equated his critics with enemies of the country bent on creating instability, and has previously suggested that such elements are responsible for Belarus's economic woes and for the April 11 bombing.
In his speech, Lukashenka blamed "excessive democracy" ahead of the disputed December presidential election in part for the deadly subway attack.

written by Robert Coalson on the basis of reporting from Vitsebsk and Minsk by RFE/RL Belarus Service correspondents Aleh Hrudzilovich, Halina Abakunchyk, and others