DUSHANBE -- Prison terms have been reduced for 29 relatives and supporters of a slain government minister who were sentenced over an alleged antigovernment plot, RFE/RL's Tajik Service reports.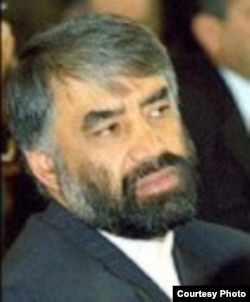 The late Mirzo Ziyoev in a 2006 photo
Tajik Appeals Court Judge Sanavbar Kholova told RFE/RL that the court decided to shorten by between five and eight years the sentences handed down to the supporters and relatives of the late Emergency Situations Minister Mirzo Ziyoev.
She added that Ziyoev's brother, Abdusamad Ziyoev, and Muhsiddin Muhiddinov, were released from jail.
Some 50 relatives and associates of Mirzo Ziyoev were detained during a crackdown in the eastern Tavil-Dara district between May and December 2009. Eleven of them are Russian citizens.
The Tajik Supreme Court sentenced two of them to life imprisonment, two to 23-30 year terms, and the rest to sentences ranging from 10 to 27 years.
Ziyoev's eldest son, Sayed Akhmad Ziyoev, was sentenced to 30 years in prison, and his younger son, Muhammad Reza, to 28 years.
Mirzo Ziyoev was the United Tajik Opposition's top military commander during the 1992-97 civil war. Upon the end of the war he was named emergency situations minister.
Officials said Ziyoev was killed in an ambush by his own supporters during an antidrug operation in Tavil-Dara in July 2009. His supporters deny any responsibility in his death. The government later accused him and his supporters of drug trafficking and supporting the banned Islamic Movement of Uzbekistan.
The authorities have also released two former opposition commanders who were sentenced earlier for other crimes.
An RFE/RL correspondent reports that Fathullo Khayriddinov (aka Eshoni Daroz), the former opposition commander in the Vahdat district, about 20 kilometers east of Dushanbe, was released from jail.
Khayriddinov was ordered to perform unpaid corrective labor and report to police every week. He also may not leave the district, Khayriddinov's father said.
A second Ziyoev associate, Nazar Yormuhammadov, has also been released from jail on the condition he does not leave his home.