Afghan President Hamid Karzai has warned NATO-led forces in his country that launching attacks on Afghan homes in pursuit of insurgents is "not allowed" and that ISAF risks being seen as an "occupying force" if it continues strikes that cause civilian casualties.
Karzai's angry remarks at a press conference in Kabul followed NATO air strikes on a compound in Helmand Province on May 29 that killed at least nine civilians -- most of them children.
The commander of the NATO-led International Security Assistance Force (ISAF) in southwestern Afghanistan later apologized for the deaths in Helmand's Nawzad district, saying the strikes on the compound there had been ordered because insurgents were using it as a base.
Many Afghans have been infuriated by graphic footage broadcast on Afghan television that showed grieving relatives holding the bodies of several children, including babies.
Karzai said the patience of Afghans with air strikes has run out.
"The Afghan people can no longer tolerate these attacks on their homes," Karzai said, "and one day the Afghan government will be forced -- if you do not come to an understanding with us based on a negotiated solution to this, that is the prevention of the bombardment of Afghan homes -- the Afghan government will be forced to take unilateral action in this regard."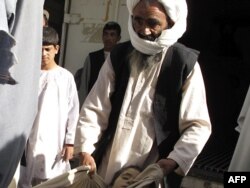 A man carries the body of a child killed in the NATO air strike in Helmand Province to a hospital on May 29.
Karzai, who did not specify what action Kabul might take, appeared particularly irritated about his attempts to discuss the issue with NATO officials, saying he was told they were not available to meet with him in Kabul until June 5 at the earliest.
"They should -- they must -- stop the bombardment of Afghan homes, and I'll be conveying this once again," Karzai said. "I wanted to have a meeting with NATO authorities in Afghanistan today but they were not available here in Kabul. And as soon as we meet, probably next Sunday, this will be given to them with clearer words with what we have in mind."
But NATO has not waited to respond publicly to Karzai's statements. Spokeswoman Oana Lungescu said that while the bloc will "continue to take very seriously concerns expressed by President Karzai," there will be no halt to the strikes.
"There will be continued coordination with Afghan security forces on such operations," Lungescu told reporters in Brussels. "They are necessary, they continue to be necessary, but they are conducted in coordination and together with Afghan security forces."
In Washington, White House spokesman Jay Carney said the international forces within Afghanistan are aware that they "do not operate in a vacuum" and will continue to work with President Karzai on the matter.
ISAF has made night raids and air strikes a cornerstone of the counterinsurgency strategy put in place by U.S. General David Petraeus when he assumed command in the summer of 2010. NATO has said it cannot function effectively in Afghanistan without them.
While United Nations figures show that at least three-quarters of civilian deaths in Afghanistan are caused by insurgents, it is those casualties caused by foreign forces that tend to prompt the most vocal public condemnations among ordinary Afghans.
Amid growing outcry from Afghan leaders over the past two years, NATO commanders have significantly tightened the rules of engagement for the use of air strikes and night raids.
At the same time, however, U.S. and NATO commanders have stepped up the use of air strikes and night raids in the past 12 months, arguing they are effective weapons against insurgents who often hide among the Afghan population.
'Behaving Like Occupiers'
Karzai also complained on May 31 that NATO officials in Afghanistan sometimes behave as if they are occupiers rather than allies with the government in Kabul. Karzai said that if there is another air strike on a civilian's home in the country, Afghanistan has "a lot of ways" of stopping the practice.
"We don't want to go there. We want NATO to stop air raids on its own, without a declaration of an end by the Afghan government because we want to continue to cooperate," Karzai said. "They must treat Afghanistan as a sovereign nation. Sometimes we have statements from them that reflect as if they are not aware that they are working in a sovereign nation."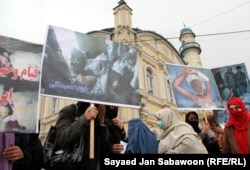 Afghans demonstrate in Kabul following the killing of nine children by NATO troops in Konar Province in March.
Karzai said his country "must clearly demonstrate our understanding that Afghanistan is an ally, not an occupied country, and our treatment with NATO is from the point of view of an ally."
"If it turns to the other -- to the behavior of an occupation -- then, of course, the Afghan people know how to deal with that," Karzai said. "There can be a lot of unilateral actions."
Jean MacKenzie, a Kabul-based senior correspondent for the online news service "Global Post, told RFE/RL that it is vital that NATO authorities heed Karzai's warnings about being seen as occupiers.
"Karzai did say that if NATO does not cease air strikes on Afghan homes that it will risk being seen as an occupying force. Then he paused for a moment and said history has shown how Afghans deal with occupiers," MacKenzie said. "This could be seen as a direct threat. He is really talking about active resistance by the Afghan population at large towards the presence of ISAF. It is a serious statement. Of course, Karzai does not have the resources to make this threat. He is almost entirely supported by the international community."
Meanwhile, ISAF spokesman Rear Admiral Vic Beck said that General Petraeus is aware that "every liberation force has to be very conscious that it can, over time, become seen as an occupation force."
"We are in agreement with President Karzai on the importance of constantly examining our actions in light of that reality, and we are doing just that," he said.
RFE/RL's Radio Free Afghanistan contributed to this report from Kabul