WATCH: Libyan rebels celebrate inside Muammar Qaddafi's main military compound in Tripoli, which they stormed after fierce fighting with forces loyal to his regime. (Video by AP)
Libyan leader Muammar Qaddafi has vowed "martyrdom or victory" after rebels stormed his compound in the capital.
Local TV channels said Qaddafi, in an audio speech, early today also said his retreat from the Tripoli compound was a "tactical move."
Qaddafi -- whose whereabouts remain unknown -- said he had secretly toured Tripoli.
A spokesman said Qaddafi was ready to resist the rebels for months, or even years.
Moussa Ibrahim, in what pro-Qaddafi channels said was a live telephone interview, said loyalist forces will turn Libya into "a volcano of lava and fire."

Jubilant Libyans poured into the streets of Tripoli to cap a day in which opposition forces stormed the compound of Qaddafi and looked to cement their control over the capital.
Waving the pre-Qaddafi red, black, and green flag and honking their car horns, hundreds sensed that the Qaddafi regime had all but collapsed, even as pockets of resistance reportedly remained in the capital and in the country's West.
One opposition supporter could hardly contain his emotion when he spoke to pan-Arab news channel Al-Jazeera on the streets of Tripoli.
"Qaddafi shut us off [from] the world for the last 42 years, and we want the world to see us, to feel us, to come to us," he said. "I'm just -- I can't speak right now because I'm going crazy in my mind -- but I want them just to embrace our [joy] and understand what this means for us."
They had swiftly entered the capital overnight on August 21.
Fighting off sniper attacks from government loyalists, the fighters seized weapons and supplies from within the compound before entering Qaddafi's living quarters.
Television footage showed men breaking up a gilded statue of the leader and kicking its face.
Colonel Ahmed Omar Bani, speaking from the eastern city of Benghazi, claimed that rebels had managed to gain control of the entire capital.
"The whole Tripoli is under our control. There was a pocket resisting our revolutionaries somewhere in Tripoli -- we call [the neighborhood] 'Abu Slim' -- but now, in this moment, there is nothing there [and] no resistance there," he said.
Bani said the opposition National Transitional Council (NTC) would transfer its operations from Benghazi to Tripoli within two days.
He also said that on the eastern front, opposition forces overran the oil hub of Ras Lanuf.
NTC forces are also reportedly in negotiations with tribal leaders to enter Qaddafi's hometown of Sirte, where some say the leader and his family may have fled.
Hours after Qaddafi's Tripoli compound was seized, a leader of the NTC, Mahmud Jibril, told a press conference in Doha that Libya's transition "begins immediately."
But he also warned against carrying out reprisal attacks on those who had sided with Qaddafi.
"The whole world is looking at Libya," he said. "We must not sully the final page of the revolution."
Jibril also pledged that the opposition would build a "united, civil, and democratic nation," and said the time had come to "concentrate on building and healing our wounds."
He also announced that Doha would host a meeting of representatives from the United States, Europe, and elsewhere on August 23 to discuss how to generate some $2.5 billion in aid for the country that the TNC is requesting.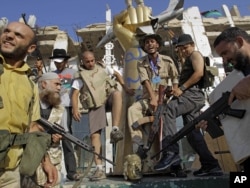 Rebel fighters gesture as they stamp on a part of a statue of Muammar Qaddafi inside the main compound in Bab al-Aziziya in Tripoli on August 23.
Meanwhile in Washington, U.S. State Department spokesperson Victoria Nuland said the government was working to release frozen Qaddafi government funds.
"We are also working urgently to be able to release between a $1 billion and $1.5 billion in U.S.-held frozen Libyan assets. We are working in the UN sanctions committee to be able to do this," she said. "We want to give this money back to the [NTC] for its use -- first and foremost to meet humanitarian needs, and to help it establish a secure, stable government, and to move on to the next step in its own road map."
She urged the international community to continue both its monetary and diplomatic support for Libya, saying, "sometimes the hardest work starts after liberation, when you have to rebuild a state, and in the case of Libya, a state that has been ruled by a dictator for 40 years."
The European Union said it is also preparing to unfreeze Libyan assets once the United Nations gives its approval. Germany is also to begin lending 100 million euros to the National Transitional Council within days.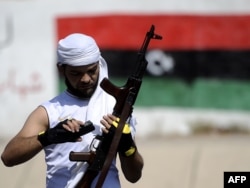 A rebel fighter reloads while fighting to take control of Tripoli on August 23.
While the Libyan opposition forces and world leaders begin to look to a new government in the country, they also warn that Qaddafi remains at large.
The 69-year-old has insisted through some six months of war that he will not step down.
Kirsan Ilyumzhinov, the Russian head of the World Chess Federation and a friend of the Libyan ruler, said he spoke to Qaddafi by phone today on August 23.
He said Qaddafi remains in Tripoli and is defiant.
The opposition's control over the city also came into question when, in the early hours of the day, one of Qaddafi's sons made a surprise appearance in the city.
The opposition claimed on August 22 that it had Saif al-Islam in custody before he was seen on the streets of Tripoli urging loyalists to continue their fight.
Meanwhile, NATO spokesman Colonel Roland Lavoie today said the alliance, which has backed the opposition with a bombing campaign, remains prepared to launch fresh strikes "if we believe there is an immediate threat against the civilian population."
The U.S. Department of Defense also announced that it is closely monitoring Libya's stock of chemical weapons, which includes over 10 tons of poisonous mustard gas.
compiled from agency reports
WATCH: Saif al-Islam, a son of Muammar Qaddafi and onetime heir apparent, appeared in front of cheering supporters in Tripoli early on August 23, defying reports he had been captured by rebel forces. (Video by AP)