TRIPOLI -- Libyan opposition fighters penetrated a loyalist-held district of the capital, Tripoli, as they continue their manhunt for embattled leader Muammar Qaddafi.
Rumors swirled that the 69-year-old strongman and his family members could be hiding in the Abu Salim area of the capital, one of the remaining areas of the city that they rebels do not control.
Intense fighting raged there on August 25, with some 1,000 opposition fighters surrounding 10 buildings where Qaddafi loyalists were holed up, hammering them with anti-aircraft guns.
After night fell on the city, neither Qaddafi nor his relatives had been found.
The leader has a $1.7 million Libyan-funded bounty on his head and is also wanted by the International Criminal Court for crimes against humanity.
Meanwhile, far from the fighting, the opposition's leadership scored a significant diplomatic victory when officials at the United Nations in New York agreed to unfreeze $1.5 billion in frozen Libyan assets for humanitarian use, social services, and reconstruction.
The decision came after South Africa, which has had close ties with the Qaddafi regime, dropped its opposition to releasing the assets.
Western powers had strongly supported the disbursement of funds, which will come out of more than $30 billion of Libyan assets held in U.S. banks.
The agreement is expected to pave the way for more nations to release frozen money to the Libyan opposition, who on August 25 said they urgently need at least $5 billion to pay state salaries, maintain vital services, and repair critical oil facilities.
Earlier, international diplomats participating in a meeting of the Libya Contact Group in Istanbul also discussed how to facilitate the release of assets. A statement released at the end of the meeting urged Qaddafi to turn himself in.
WATCH: Fighting continued in Tripoli and elsewhere across Libya even as rebels celebrated their gains.
Qaddafi, however, said in a new audio message broadcast on loyalist television that he is prepared to fight until "martyrdom or victory."
"This resistance is against the stupid rats," he said. "We will defeat them, God willing, with armed force, with steadfastness and a strong will for freedom, sovereignty, pride, and glory. Don't ever be afraid of them, but fear God. You are closer to God than them. They are unbelievers, turncoats and crusaders and unbelievers."
Qaddafi also said imams should call for youths to rise up "for jihad."
The AP also reported that it had received a phone call from Qaddafi government spokesman Moussa Ibrahim, who said that Qaddafi is safe and "leading the battle for our freedom" alongside top military and political aides.
Britain's defense minister said that NATO is aiding the opposition in its search for Qaddafi.
Liam Fox told Sky News that the alliance is contributing intelligence and reconnaissance equipment to the rebel forces.
However, a U.S. Defense Department spokesman says the U.S. military is not participating in the hunt for Qaddafi, saying that the alliance's mission is to protect civilians and not to target individuals.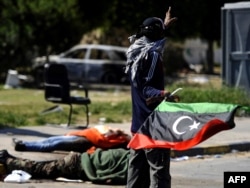 A Libyan rebel holds the rebellion flag as he stands next to the bodies of loyalist fighters at the south entrance of the Bab al-Aziziya compound in Tripoli on August 25.
Meanwhile, RFE/RL correspondent James Kirchick reported from Tripoli that opposition fighters continued to stream into the capital on August 25 from across the country.
"Everything Qaddafi said is a lie," said one antiregime fighter who spoke to Reuters after arriving in Tripoli from Misurata. "He wants to kill all of the Libyan people. That's why he gave orders to open all the weapons depots and arm the Libyan people and then people will kill each other. He has made it known that he has lost everything. He has lost himself, lost his people, and lost everything he has."
RFE/RL's correspondent said, "The situation here remains quite tense. There are countless checkpoints across the city -- rebel-controlled checkpoints. We drove by this morning past the Qaddafi compound. The gates were open and there were people coming in and out. All of the guard towers were empty. Some of the walls were destroyed. We saw several freshly dead corpses on the ground."
Follow Jamie Kirchick's tweets from Tripoli
There are also signs that a major battle is brewing in Sirte, some 360 kilometers east of Tripoli, as the opposition deployed heavy artillery and tanks toward the city.
Sirte is the birthplace of Qaddafi and one of the most important remaining strongholds for tribes and troops loyal to his regime.
Amnesty International said that both sides in the six-month long conflict are mistreating prisoners, with pro-Qaddafi guards allegedly raping child detainees and opposition forces abusing children and holding foreign mercenaries as prisoners.
Follow events in Tripoli LIVE on Alhurra (in Arabic)
But even as fighting continues to rage in Libya, continued opposition advances have both their own leaders and world leaders beginning plans for the post-Qaddafi era.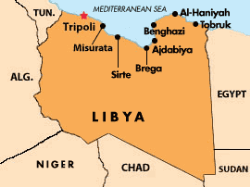 The opposition National Transitional Council (NTC) declared that its leadership had officially begun to operate from Tripoli, with several ministers already transferred there from the eastern stronghold of Benghazi.
NTC officials have pledged to oversee a transparent transition to democracy in the North African country, despite fears among some observers that fighting could break out along tribal lines or that a power vacuum could be exploited.
U.S. Secretary of State Hillary Clinton issued a statement saying the next days and weeks in Libya are "critical" for the future of the country. She urged peace between the Libyan factions, saying there "can be no place in the new Libya for revenge attacks and reprisals."
Clinton said the United States will look to the National Transitional Council to fulfill its commitments to build what she called a "tolerant, unified, democratic" Libya that protects the universal human rights of all Libyan citizens.
In another development, the Arab League gave its full backing to the rebel National Transitional Council as the legitimate representative of the Libyan people, joining dozens of nations to have done so.

written by Richard Solash in Washington with reporting by James Kirchick in Tripoli and agency reports