Gunmen opened fire on a group of minority Shi'ite Hazara coal miners after abducting them, killing 11 in Pakistan's southwestern Balochistan Province, officials said on January 3.

"At least 11 miners were killed in an overnight attack," Noor Ullah, a spokesperson for local police said.

Moazzam Ali Jatoi, an official with the paramilitary Levies forces, said the attack took place near the Mach coalfield, about 48 kilometers east of the provincial capital Quetta.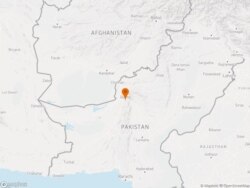 Jatoi said armed men took the coal miners to nearby mountains where they opened fire on them. He said six of the miners were killed on the spot and five who were critically wounded died on the way to a hospital.

Jatoi said an initial investigation revealed the attackers identified the miners as being from a Shi'ite Hazara community and the gunmen took them away for execution, leaving others unharmed.
Police video of the bodies showed the miners were blindfolded and their hands tied behind their backs before being shot.

No group has claimed responsibility for the killings.
In a tweet, Prime Minister Imran Khan condemned "the killing of 11 innocent coal miners" as a "cowardly inhumane act of terrorism."

Members of the Shi'ite ethnic Hazara minority have in the past been targeted by Sunni militant groups, including the extremist Islamic State (IS), both in Afghanistan and Pakistan.

Local television footage showed security troops surrounding a desolated mountainous area diverting traffic and guiding ambulances to pick up the bodies.

Security forces were also seen spreading out in the mountains to search for the perpetrators.

The region, which borders Afghanistan and Iran, has been plagued by sectarian violence, attacks by Islamist militants, and a separatist insurgency that has produced thousands of casualties since 2004.
Based on reporting by AP, dpa, and RFE/RL's Radio Mashaal