Pakistan Executes Two Militants After Reinstating Death Penalty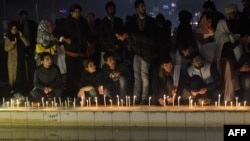 Pakistan has executed two militants after it reinstated the death penalty in the wake of an attack on a school that killed more than 140 people, most of them children.
Pakistani state television said the two executions were carried out late on December 19 in the central city of Faisalabad.
The home minister of Punjab Province, where Faisalabad is located, Shuja Khanzada, identified the two people hanged as Muhammad Aqeel and Arshad Mehmood.
Muhammad Aqeel, alias Dr. Usman, was a former army medical doctor involved in the 2009 attacks on the Sri Lankan national cricket team and the army headquarters in Rawalpindi.
Arshad Mehmood was convicted for his involvement in a 2003 assassination attempt on former military ruler General Pervez Musharraf.
Pakistani prison officials said earlier on December 19 that there were 23 terrorists set to be executed within days.
The government on December 18 rejected clemency appeals by 17 convicted terrorists.
General Raheel Sharif, the army chief of staff, also signed so-called "black warrants" for six soldiers convicted of terrorist offenses.
Pakistani Prime Minister Nawaz Sharif lifted the moratorium on the death penalty following the killing of 132 children and nine teachers by Pakistani Taliban militants on December 16.
The attack was the worst terrorist operation on Pakistani soil, and has prompted calls for the government to crack down on Islamist militia groups like the Pakistani Taliban and the Haqqani network.
The December 19 executions were the first in Pakistan since a 2008 moratorium.
Some 8,000 prisoners are currently on death row in Pakistan.
The Pakistani Taliban claimed the school attack, saying it was in retaliation for the Pakistani military offensive in the northwest tribal areas, which have long been a haven for militants.
Pakistan's military launched fresh strikes in the North Waziristan tribal area after the school massacre and on December 19 claimed to have killed more than 50 militants, after reporting killing 32 more militants on December 17.
An additional 27 militants were reported killed by a series of ground assaults and air strikes in the Khyber tribal region earlier this week.
A spokesman for Pakistan's paramilitary Rangers force, Sibtain Rizvi, said on December 19 that the Rangers had conducted a special operation in the southern city of Karachi in which a suspected Taliban commander and three other militants were killed.
Lakhvi's Release Challenged
State prosecutors have also moved to reverse a court decision granting bail to the suspected mastermind of the 2008 terrorist attacks in Mumbai, India.
Prosecutors will ask the Islamabad High Court on December 22 to withdraw the bail agreement for Zaki-ur-Rehman Lakhvi.
Lakhvi, believed to be a leading member of the banned Pakistani militant group Lashkar-e-Taiba, is one of seven people charged with planning the Mumbai attacks, which left 166 people dead.
According to a ruling December 18, Lakhvi was due to be released after paying a $5,000 bond. He will now remain in jail pending the appeal process.
The government's decision to reinstate the death penalty in terrorism cases has triggered warnings of potential jailbreak attempts in the troubled northwest region of Khyber Pakhtunkhwa.
It has also sparked condemnation from rights groups, who say capital punishment is a poor substitute for effective protection for civilians in Pakistan's northwest.
The death penalty is "never the answer," even in the case of "unimaginable" tragedies like the Peshawar school massacre, David Griffiths, Amnesty's deputy director for the Asia-Pacific region, said.
Pakistani security sources have suggested the Peshawar school attack was organized by Umar Mansoor, a Pakistani militant who is thought to be based in Afghanistan.
Phone intercepts showed the Peshawar school gunmen to be receiving orders from outside the site, potentially from Afghan numbers -- a possibility that underscores the overlap between militant insurgencies in Afghanistan and Pakistan.
General Sharif, traveled to Kabul on December 18 for emergency meetings with Afghan President Ashraf Ghani and U.S. Army General John Campbell, the top NATO commander in Afghanistan.
With reporting by AP, AFP, Dawn, BBC, and Reuters