In this week's show, we explore all sides of the controversial issue of the Islamic full-face veil. France has just enacted a law that bans the wearing of garments in public that cover the face, the first such nationwide ban to be enforced in a European Union country. The new law primarily affects Muslim women who wear the niqab or burqa.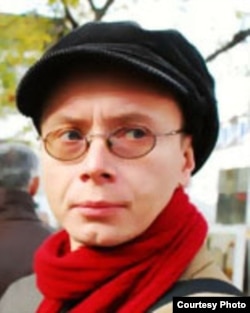 Pavel Butorin
To debate the issue, we invited into "The Blender" studio Zamira Eshanova of our Uzbek Service, Amina Umarova of our North Caucasus Service, and Washington correspondent Golnaz Esfandiari. It's a lively discussion, to say the least, and one which we think helps inform the issue.
Also on this week's episode, correspondent Daisy Sindelar tells us about Russia's so-called "butterfly children," who suffer from a rare skin disease called epidermolysis bullosa (EB). The story is based on reporting by Anton Shiryaev and Galina Shiryaeva of our Russian Service.
And we visit once again with the editors of our
"From Our Bureaus"
wire, Merkhat Sharipzhan and Pete Baumgartner, for another edition of our regular "Uncovered" segment. That's where Merkhat and Pete fill us in on some significant stories from our broadcast region that aren't getting their due attention in the Western media. Divorce by text message, anyone?
This week's show is hosted by
Pavel Butorin
.
This week's podcast features music from Russian rock musician Boris Grebenshchikov: "Wolves And Crows" from "The Russian Album"; and "Nowroz" from the album "Paris Tehran Project" by Alain Brunet & Shargh Ensemble Orchestra.
Listen to or download the episode below or
subscribe to "The Blender" on iTunes
. For previous episodes,
click here
.
RFE/RL's The Blender -- 4/15/11