Quiet Desperation: Turkmen Villagers Fear Afghan Conflict, But Won't Say It Out Loud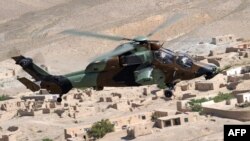 "Bullets are constantly landing in our village and if we had any chance to leave, we would."
That's how a resident described the situation in Marchak, a Turkmen village located just across the border from Afghanistan.
According to Turkmenistan's government, however, the description given to RFE/RL's Turkmen Service, known locally as Azatlyk, is not true.
Fighting in neighboring northwestern Afghanistan has grown significantly worse over the last three years. Attacks and battles in the once relatively peaceful Afghan provinces of (from west to east) Herat, Faryab, Badghis, and Jowzjan are now common and have caused Afghan First Vice President Abdul Dostum Rashid to make several trips to the area to lead operations to reclaim territory lost to the Taliban and its militant allies.
Afghan media has reported on this, including fighting that took place along the border with Turkmenistan, but in Ashgabat officials say there is no security problem along the frontier.
Marchak villagers say otherwise and recently Azatlyk was able to speak with several people from the village (which is not to be confused with the district and village of the same name across the border in Afghanistan).
Given the nature of Turkmenistan's government, which is known to retaliate against its citizens when they speak with foreign media, or provide information that conflicts with the official narrative, the names of these villagers will not be given.
That they spoke out at all shows their desperation.
'Officially' No Problems Exist
Marchak is in the Tagtabazar district of Turkmenistan's Mary Province, and is situated close enough to the Afghan border that stray rounds are landing on their side of the frontier, according to the residents.
They explain that the sounds of gunfire to the south are becoming routine, and that military helicopters are flying over their village as they apparently patrol the border.
"Recently, a girl was hit [in the hand] by a bullet," one villager claimed. "The government paid her hospital costs but police came and asked her to sign a statement and not tell anyone about the incident."
There were about 1,000 people living in Marchak before the recent problems started. Some of those who had relatives living in other parts of Turkmenistan left. But few of the villagers have that option, so most continue to live in Marchak.
On their own initiative, locals built a protective shelter for residents to hide behind when fighting is particularly fierce on the Afghan side of the border.
But it would be difficult for the villagers of Marchak to receive much help from the government because their problems apparently do not officially exist.
Toymyrat Bugaev from RFE/RL's Turkmen Service contributed to this report
About This Blog
Qishloq Ovozi is a blog by RFE/RL Central Asia specialist Bruce Pannier that aims to look at the events that are shaping Central Asia and its respective countries, connect some of the dots to shed light on why those processes are occurring, and identify the agents of change. Content will draw on the extensive knowledge and contacts of RFE/RL's Central Asian services but also allow scholars in the West, particularly younger scholars who will be tomorrow's experts on the region, opportunities to share their views on the evolving situation at this Eurasian crossroad. The name means "Village Voice" in Uzbek. But don't be fooled, Qishloq Ovozi is about all of Central Asia.
Latest Podcasts