U.S. Warns Of 'Potential Terrorism' At Sochi Olympics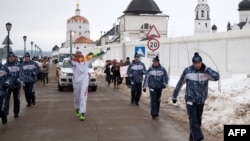 The U.S. State Department has warned Americans of the potential for terrorism at the Sochi Olympics, but said it was not aware of any specific threat to U.S. citizens.

In a "travel warning," the department urged Americans to be vigilant about personal security at the February 7 to March 14 Olympic Games, citing the possibility of petty crime, inadequate medical care, and hotel shortages.


Based on reporting by Reuters and AFP