WASHINGTON -- For Russia's beleaguered political opposition, some months have more meaning than others. First introduced in 2009 by opposition politician Eduard Limonov, the so-called "Strategy 31" movement calls on citizens to assemble on the last day of months that have 31 days.

The public demonstrations, which are attended by leading opposition figures and often forcibly dispersed by the authorities, are aimed at pressing citizens' right of assembly, which is guaranteed by Article 31 of the Russian constitution.

They also give activists a platform to speak out against rampant corruption and widespread rights abuses under the ruling tandem of President Dmitry Medvedev and Prime Minister Vladimir Putin.

But on March 31, as police arrested some 150 people rallying in Moscow and St. Petersburg, a transplanted "Strategy 31" protest was being held in front of the White House in Washington, thousands of kilometers from the Kremlin.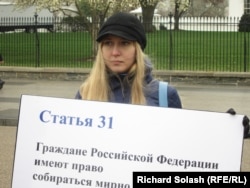 A protester holds up a description of article 31 of Russia's constitution.

Natalia Pelevine organized the small demonstration, which is the first of its kind in the U.S. capital. She said the media censorship in Russia, the lack of free elections, and the oppression of the opposition will only get worse if Putin, considered by many to hold ultimate sway in the government, stays in power.

"Things can only get better if he isn't [in power]," she said. "He's not going to leave his post -- he's now prime minister and he's probably going to run for the presidency. It's not going to happen unless something is done. We think that people need to stand up for themselves and we want to express here, in a small way, our support for the opposition in Russia."

By day, the 33-year-old Pelevine is a New York-based theater writer. But the Moscow native spends her free time as the head of the Democratic Russia Committee, which was founded two months ago to help support political change in Russia from abroad.

Getting Noticed

Pelevine says her group is small, with a core membership of some 15 Russians. They include former television journalists for the state-run Channel 1 who she says "were unable to deal" with censorship; participants in the "Strategy 31" movement who are now in the United States; and individuals involved in the Russian government's case against former Yukos head Mikhail Khodorkovsky, which many consider to be politically motivated.

Pavel Zabelin, who braved a cold and wet Washington day to attend the protest, said he was a businessman in Russia before the state took away his livelihood.

"The General Prosecutor's office decided to make me a witness in the Yukos case and they tried to persuade me to give false evidence against top managers of this company and I rejected [that]," he said.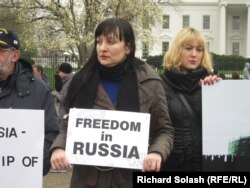 Natalia Pelevine, unmasked, calls on Russia to grant citizens their constitutional rights.
"They told me, 'You will lose everything: You will lose your freedom, you will lose your business.' And now I lost my business but yet I am free. So they managed to carry out just half of their promises."

Zabelin said he was granted political asylum in Estonia after the incident. He now hopes his own experience will offer a counterpoint to the Kremlin's recent push to portray itself on the international stage, including in the United States, as an attractive place to do business.

Pelevine, who donned handcuffs and tied a black bag over her head during the protest to represent the lack of freedom in Russia, has organized other "Strategy 31" protests in New York, including in front of the Russian mission to the United Nations.

While the primary purpose of the Washington protest remains to express solidarity with Russia's opposition, she said the choice of location does represent an important secondary goal.

"In the U.S., I think, at least some people will know," she said. "Lawmakers will know that we're here and that we support the opposition in Russia. That will add that little bit of urgency, maybe, to the situation -- just a tiny bit -- we hope."

Relations between Washington and Moscow have improved markedly under U.S. President Barack Obama's 'reset' policy of forging agreements with Russia in areas of shared interest, and agreeing to disagree on other issues. While the administration insists that it is continuing to press Russia on its troubling rights record, critics say it has sacrificed democratic values for national interests.

A Question Of Freedom

Protester Dmitry Arbatov said he was arrested twice and received 15 days in prison for participating in "Strategy 31" rallies on Russian soil. He said the contrast in the United States was apparent.

"Here you can feel the freedom. Here you can say something about anything. Here you can say, 'I'm Russian [and] I disagree with Mr. Putin.' I can't say it there," he said.

For Pavel Zabelin, who held an anti-Putin placard, another contrast comes to mind:

"There's one more reason why I came here today. That is that in the year 2000, in my naiveté, let's say -- in my youth -- I was an electioneer for the then [presidential] candidate Vladimir Putin in Moscow. Moreover, I headed his election headquarters for the central district of Moscow," he said.

"And so it's like what is happening today in Russia is my fault -- I always feel that. I feel that I should take some action to make up for my mistakes."

Pelevine said she received messages of encouragement for the Washington protest from the leaders of "Strategy 31" in Russia, and hopes to return to the U.S. capital in the future, with even more supporters.