MOSCOW -- It looked like President Dmitry Medvedev would chalk up political points at this week's Global Policy Forum in Yaroslavl, showcasing his plan to turn Russia into an innovation economy.
Instead, it became a damage limitation exercise as the nearby wreckage of a Yak-42 passenger plane, which crashed on September 7, offered a powerful symbol of the obstacles the Kremlin faces in modernizing Russia.
The crash, which killed 43 people, including most players from a top-level hockey team, has once again put the spotlight on Russia's deplorable flight record, which has been put down to lax safety observance, cost-cutting on maintenance, corruption and the country's aging Soviet fleet of planes.
Aleksandr Shokhin, president of the Union for Industry and Entrepreneurs, was in attendance at the Yaroslavl conference. He told RFE/RL's Russian Service that "all the contradictions of modern Russian society collided in Yaroslavl:"
"I think this [illustrates] the two-sided nature of our politics," he said. "On the one hand we dream of becoming a great empire, while at the same time we haven't sorted out elementary problems in basic technology in many sectors. This is a reason to ponder what type of modernization we really need."
Russia Is 'Most Dangerous Place To Fly'
Medvedev, who altered his timetable to visit the site of the crash on September 8, ordered a dramatic reduction in the number of domestic airlines, in a bid to weed out Russia's many budget carriers inclined to dangerously skimp on costs to maintain tight profit margins.
But for many observers, the high frequency of plane crashes in Russia points to a systemic problem tied to the legacy of the Soviet Union and its aging infrastructure.
"I think what is happening is far from coincidental," said Ruslan Grinberg, director of the economic institute of the Russian Academy of Sciences.
"We are not just talking here about the human factor when there is lower degree of professionalism. There is also dilapidated infrastructure. We can bemoan that or not, but this industrial landscape was created – and now it is it is beginning to fall apart of its own accord."
The crash of the Yakovlev marks the thirteenth serious plane accident or incident in Russia this year, according to the online Aviation Safety database, which it says makes the country the most dangerous place to fly in 2011.
The latest air disaster comes on the heels of the crash of a Tupolev Tu-134 plane on June 20 in Russia's Karelia region that killed 47 people.
Another major air disaster was narrowly averted on July 11 when the left engine of an Antonov-24 passenger plane burst into flames in midair. The pilot managed a crash landing, although six members of the crew were still killed.
Following that fatal incident, Medvedev issued an order grounding some older Soviet-era planes pending safety checks, with a view to phasing them out of use completely. But the deadly June crash was eventually found to be due to pilot error.
The Yak-42 is reported to have crashed after it was unable to gain enough altitude when it took off from Tunoshna airport near the city of Yaroslavl 250 kilometers north east of Moscow. It exploded on impact.
Russian investigators have said they believe the crash was caused either by faulty equipment or pilot error, since weather conditions were excellent.
A Blow To Medvedev The Modernizer
Interfax news agency reported on September 9 that a preliminary investigation shows the engines were working from take-off but they may have not been correctly serviced before the flight.
Investigators suspect the plane failed to gain enough speed before taking off. However further investigation has been stalled as the black boxes recovered from the wreckage on September 8 need to be dried out before they can be properly analyzed.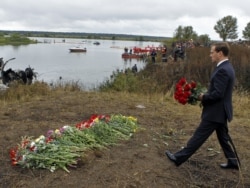 Russian President Dmitry Medvedev lays flowers at the site where the Yak-42 passenger plane crashed.
As Medvedev delivers another directive on rescuing the country's ailing air industry, analysts say that the president, who has championed Russia's modernization, has suffered a blow to his credentials ahead of the upcoming presidential and State Duma elections.
"The plans for modernization reflect an understanding of the need to bring the country out of crisis," said Sergei Rogov, director of the US and Canada Institute, a Russian think tank. But the way these plans are realized has us wishing for it to be better, to say the least, since very often these things are not carried out.
"This is probably linked to the nuances of the political system that has taken shape in this country and the immaturity of democratic institutions and processes.
"This awful catastrophe is the latest reminder that we have to haul ourselves out of this quagmire."
RFE/RL's Russian Service contributed to this report