An international poll of experts says Afghanistan is the most dangerous country for women.
The
study by TrustLaw
, a legal news service run by Thomson Reuters Foundation, places the Democratic Republic of Congo and Pakistan in second and third positions.
India is ranked the fourth most dangerous country, followed by Somalia.
Monique Villa, chief executive of Thomson-Reuters Foundation, told RFE/RL that the poll shows that less publicized risks, which don't grab headlines, are sometimes just as significant for women than physical perils.
"It's not only the obvious dangers, such as rape and murder, that are the most dangerous for women," she said. "You have many more dangers threatening women, and we call them the hidden dangers."
Villa added that these "hidden dangers," including the consequences of poverty, discrimination, cultural factors, and a lack of health care, can be applied to "the top five countries which are the worst for women to live in."
The poll marked the launch of TrustLaw's
new women's section
, described as a global hub of news and information on women's legal rights.
It asked more than 200 experts around the world to rank countries on issues like overall perception of danger, access to health care, violence, cultural discrimination, and human trafficking. Respondents included aid professionals, academics, health workers, policymakers, and journalists.
Women's Issues Not Properly Addressed
Afghanistan, ravaged by decades of armed conflicts, emerged as the most dangerous country for women and worst in three risk categories -- health, non-sexual violence, and lack of access to economic resources.
Addressing an event marking Mother's Day in Kabul on June 14, Saira Sharif, a member of parliament for Khost Province, said women-related issues were not "fully addressed" by the government in Afghanistan.
"Women's issues are only turned to slogans by the government and foreigners," she said. "When they mention women's issues during events and programs, they think women only live in the capital of Kabul. They don't take tangible practical steps, while we still have women in provinces who are not even been considered to be human beings."
Deep-Seated Gender Stereotypes
Survey respondents cited huge maternal mortality rates, limited access to doctors, and a near total lack of economic rights for women in Afghanistan.
Studies show that one in 11 women in Afghanistan dies from pregnancy-related causes.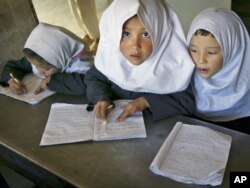 Limited educational opportunities for girls was one of the "hidden dangers" referred to in the survey.
Antonella Notari, head of
WomenChangeMakers
, a group that supports women social entrepreneurs around the world, said women who "attempt to speak out or take on public roles that challenge ingrained gender stereotypes of what's acceptable for women to do or not, such as working as policewomen or news broadcasters, are often intimidated or killed."
The Democratic Republic of Congo (DRC), following a 1998-2003 war and the accompanying humanitarian crisis that killed more than 5 million people, ranked second mainly due to staggering levels of sexual violence in the lawless east.
A recent study by U.S. scientists found that some 400,000 females aged 15-49 were raped over a 12-month period in 2006 and 2007.
Pakistan was included third in the list for having "some of the highest rates of dowry murder, so-called honor killings and early marriages."
The survey says cultural, tribal, and religious practices harmful to women include "acid attacks, child and forced marriage and punishment or retribution by stoning or other physical abuse."
In an interview with RFE/RL's Radio Mashaal, Shakeela Khan, a representative of the Pakistani women's rights organization Aurat Foundation in Peshawar, gave one recent example of such abuses which occurred in Khyber Pakhtunkwa Province.
"One man from Haripur had sexual relations with his friend's wife," she said. "When the husband of that lady became aware of this relationship, he divorced his wife and then went to his friend's village along with his brothers. When they arrived, he undressed his friend's mother and then [paraded] her around naked in the street of that village."
According to Pakistan's Independent Human Rights Commission, some 1,000 women and girls die in honor killings annually.
50 Million Girls 'Missing'
India ranked fourth, primarily due to the widespread use of abortions to select gender, the killing of infant girls, and human trafficking.
The United Nations Population Fund says up to 50 million girls are thought to be "missing" over the past century due to female infanticide and selective abortions.
In 2009, Indian authorities estimated that 100 million people, mostly women and girls, were involved in trafficking in India that year.
Trafficking includes sex slavery, forced labor, and forced marriage.
But the report by TrustLaw quotes experts as saying that India was "relatively forthcoming about describing its problems, possibly casting it in a darker light than if other countries were equally transparent about trafficking."
Somalia was ranked fifth due to dangers ranging from high maternal mortality, rape, and female genital mutilation to limited educational opportunities, healthcare and economic resources.
Although the survey highlighted the top five most dangerous countries for women, Villa said other major women's rights violators include Sudan, Haiti, Saudi Arabia, Nigeria, and Bangladesh.
RFE/RL's Radio Free Afghanistan and Majeed Babar of Radio Mashaal contributed to this report