Witnesses in the southern Syrian city of Daraa say that security forces are firing tear gas and live bullets on demonstrators, news agencies say.
The witnesses say several thousand people were protesting, some of them chanting "We want dignity and freedom" and "No to emergency laws."
Security forces moved in firing tear gas then, according to witnesses, live rounds.
For more than a week there have been demonstrations in Daraa and scores of people have been killed.
compiled from agency reports
Liveblog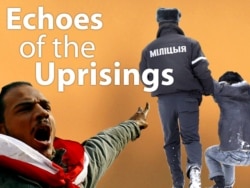 Tracking events and ideas convulsing the Arab world and with ripples around the globe, including RFE/RL's broadcast region.
Click here