WATCH: Turkish Prime Minister Recep Tayyip Erdogan votes with his wife, then later led celebrations after results showed his party won, even as Kurds protested.
By Robert Tait
Recep Tayyip Erdogan has been cast in the dual role of consensus builder and Turkey's most successful modern prime minister after his ruling Justice and Development Party (AKP) won a third consecutive election landslide with nearly 50 percent of the vote.
The resounding victory margin saw the socially conservative AKP increase its vote share from its 2007 poll win by more than three points to 49.9 percent.
But rather than being more powerful than ever, the result leaves Erdogan short of the two-thirds parliamentary majority needed to unilaterally reshape Turkey's constitution, which was written after a military coup in 1980.
With 326 out of the national assembly's 550 seats -- four fewer than it gained in 2007 -- the AKP is also five short of what it would need to call a referendum for a new constitution.
The prime minister is widely believed to have been planning to create a presidential system in which he would be elected president, cementing his already formidable power.
Instead he now finds himself in the unaccustomed role of consensus builder, a mantle he insisted he was willing to adopt.
"Our people not only granted us the chance to rule the country but they also gave us a mission for a new charter," Erdogan said. "People gave us a message to build the new constitution through consensus and negotiation."
Accordingly, the constitution would be one that healed Turkey's ethnic and religious-secular divisions, he said.
"We will write a civilian, free constitution which braces all parties of the society together," Erdogan said. "Everybody will find himself in this constitution; east will find himself, west will find himself."
Other Players
The role of consensus builder may sit uneasily with Erdogan, who has been accused of authoritarian and autocratic tendencies. The AKP, which has its roots in political Islam, has also been accused in the past of seeking to undermine Turkey's secular constitution and narrowly escaped being shut down by the country's constitutional court in 2008.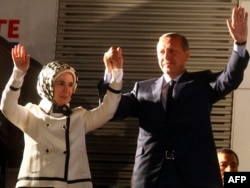 Turkish Prime Minister Recep Tayyip Erdogan (right), accompanied by wife Emine, greets supporters at AKP headquarters in Ankara on June 12.
Its increased vote share was achieved despite the main opposition party, the avowedly secular Republican People's Party, raising its showing to just 26 percent -- its best result in 30 years -- under a new leader, Kemal Kilicdaroglu.
The right-wing Nationalist Action Party (MHP) also appeared to be largely unaffected by a sex-tape scandal that forced 10 of its senior parliamentarians to resign during the campaign. Its vote was down only one point to 13 percent.
The pro-Kurdish Peace and Democracy Party (BDP) also succeeded in winning 36 seats by fielding its candidates as independents -- a move aimed at overcoming Turkey's parliamentary-threshold rule that prevents any party with less than 10 percent of the national vote gaining seats in the national assembly.
Kurdish Issue
Besides the constitution, Erdogan's third term is likely to dominated by the Kurdish issue -- with some observers warning of a resurgence of a conflict that has killed around 40,000 people in the mainly Kurdish southeast since 1984.
In a sign of the potential for violence, a percussion bomb exploded late on election night in the southeastern province of Sirnak, near the Iraqi border, injuring 11 people celebrating the victories of the Kurdish candidates.
Cengiz Aktar, professor of European Union studies at Istanbul's Bahecesehir University, said the BDP's success is welcome but much will depend on Erdogan's willingness to compromise.
"It's good that the Kurdish party, through independent candidates, made it to the parliament with more deputies than in the previous legislature and it is definitely an asset for the future dialogue," Aktar said. "But the dialogue does not really depend on them. The dialogue depends chiefly and mainly on Mr. Erdogan, whether he will accept to sit at the table."
The BDP launched a campaign of civil disobedience in March, apparently supported by Abdullah Ocalan, leader of the outlawed Kurdistan Workers Party (PKK). Ocalan has been held in an island prison south of Istanbul since his capture in 1999.
The BDP says its goals are to secure education in Kurdish, the lowering of a threshold that prevents the main Kurdish party from entering parliament, the release of political prisoners, and an end to military operations against the PKK.
Ultimately, the BDP wants autonomy for mainly Kurdish provinces. But the central issue for the BDP is the use of Kurdish language in public life.
Turnout among Turkey's 52 million registered voters was about 86 percent.