ASHGABAT -- An RFE/RL correspondent in Turkmenistan has been warned by the authorities about his reporting on the
deadly explosions at a weapons depot
near the country's capital last week, RFE/RL's Turkmen Service reports.
A fire at an armory on a military base in the city of Abadan on July 7 is believed to have set off a series of explosions that sprayed ammunition throughout the city, causing tens of thousands of people to be evacuated as many homes and other structures were burnt down or damaged.
Eyewitnesses say that scores of people were killed and injured by the blasts, but the Turkmen government
said only 15 people died
.
RFE/RL correspondent Dovletmyrat Yazkuliyev, who reported on the event, was summoned by security officials on July 14 to appear at the police department in the small town of Annau, a suburb of Ashgabat, where he lives.
Yazkuliyev told RFE/RL he went to the station and was questioned by a member of the National Security Ministry who identified himself as Altymyrat Berdiyev. Yazkuliyev said he did not think that was his real name.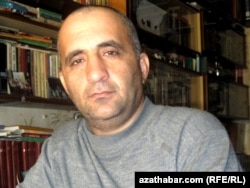 Dovletmyrat Yazkuliyev
Yazkuliyev was accused by the security officer of "slandering and disseminating provocative information" regarding the Abadan blasts. But he said he replied that he stood by the reports in the blogs he wrote for RFE/RL and suggested that he and the security officers visit Abadan to investigate the facts in his reports.
Yazkuliyev, who is in his 40s, said he was treated well and in a polite manner while being questioned.
But he said he was warned that if he is summoned by security forces again because of his blogs he will be charged with "disseminating defamatory information through the media" and "causing national, social, and religious provocations."
Yazkuliyev, who has worked for RFE/RL for about three years, would face prison sentences of two and five years for those charges, respectively, if tried and found guilty.
In his blogs, Yazkuliyev was highly critical of the authorities -- and the State Security Council -- for their slow reaction to the deadly event.
Government officials said for nearly three days that there were no casualties and only minor damage as a result of the explosions.
Yazkuliyev also wrote that there were not 15 dead, as the government claimed, but rather that hundreds of people had been killed.