Syrian army troops have been deployed in Latakia in a bid to calm antigovernment unrest in the Mediterranean port city that has reportedly left at least 12 people dead.
The violence on March 25 and 26 in Latakia came amid widespread unrest over the rule of President Bashar al-Assad's regime that is reported to have claimed scores of dead and wounded in the past week.
Major Syrian cities were reported calm on March 27. Officials of the Assad government have said a decision to lift decades-old emergency laws that give far-reaching powers to the security services had already been taken -- but it was unclear when it will officially take effect.
Reports say Assad is expected to address the nation in the coming days.
Syrian authorities have suggested the violence is being incited by those who hope to provoke a sectarian conflict in the country.
compiled from agency reports
Liveblog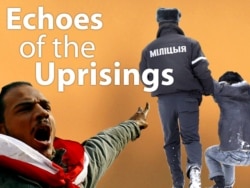 Tracking events and ideas convulsing the Arab world and with ripples around the globe, including RFE/RL's broadcast region.
Click here