Ukraine Live Blog: Zelenskiy & The Crisis In The East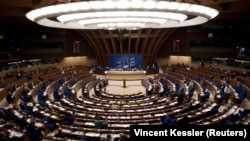 Latest News
-- Ukraine's delegation to the Parliamentary Assembly of the Council of Europe (PACE) has walked out in protest and President Volodymyr Zelenskiy has voiced his "disappointment" over Russia having its voting rights reinstalled at the body after a three-year hiatus.
-- Austria's Supreme Court has upheld a decision allowing a request by the United States to extradite Ukrainian tycoon Dmytro Firtash, the latest twist in the case for the oligarch who has been fighting against extradition since his 2014 arrest in Vienna.
-- The National Bank of Ukraine will introduce a new 1,000-hryvnya banknote featuring the portrait of a prominent 20th-century Ukrainian scientist, Volodymyr Vernadskiy.
*Time stamps on the blog refer to local time in Ukraine