Last month, hoping to elicit a condemnation after news that Iranian opposition leaders Mir Hossein Musavi and Mehdi Karrubi had been placed under house arrest, Iranian democracy activist Amir Hossein Etemadi signed in to Twitter and sent a message to the U.S. State Department's newly launched Persian-language account, @USAdarFarsi.
Since then, Etemadi has sent more messages to the State Department through its
Persian-language Facebook page
. One recent note said he hoped that as the U.S. government expands its foreign-language presence on social-media sites, it takes Iranian voices increasingly into account.
"I hope that this connection will be two-way, meaning that it's not just us following your page, but more importantly, that you follow the Persian pages and the profiles of Iranians," he wrote.
Etemadi got no response to his tweet but the State Department did answer his Facebook message. Someone at the U.S. government agency thanked him for reaching out, asked him to keep the comments coming, and repeated a promise made by U.S. Secretary of State Hillary Clinton -- that Washington will not only listen, but also respond to what it hears.
'Our Ear To The Ground'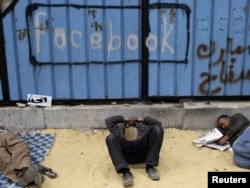 Protesters rest near graffiti on Tahrir Square in Cairo in early February.
It's no coincidence that the State Department's social-media initiative has burst onto the scene as YouTube, Facebook, and Twitter are being credited with helping organize and galvanize pro-democracy movements across not just the Arab world, but everywhere repressive regimes are in control.
Clinton introduced the State Department's social-media push in a February 15 speech on Internet freedom, saying it would allow the Obama administration "to have real-time, two-way conversations with people wherever there is a connection that governments do not block."
"We have our ear to the ground, talking to digital activists about where they need help, and our diversified approach means we're able to adapt to the range of threats that they face," Clinton said. "We support multiple tools, so if oppressive governments figure out how to target one, others are available."
The State Department says its social-media initiative is aimed at connecting "directly with people we could not reach before." In addition to Persian, the department now tweets in nine languages other than English, including Arabic, Persian, Chinese, and Russian.
As of today, the department's Arabic Twitter account has some 6,000 followers -- a modest figure considering how many millions of Arab Internet users there are worldwide. Its Persian-language Twitter feed is the second-most popular.
Closer To Dialogue
But how is it playing in the wider world? Activists and observers are beginning to weigh in on whether Washington's soft-power social-media outreach is having its intended effect.
A few comments on the department's Facebook page reflect doubts that the message will change just because the communication channels have changed.
But others on the receiving end of Washington's tweets and Facebook posts say that while a true "two-way conversation" may not always be possible, communication via social media does make the gulf between them and the United States seem a little smaller.
Moroccan blogger Hisham Almiraat says the outreach has already succeeded in generating a dialogue among Internet-savvy youth in his country.
"We are light years away from the years of the Bush administration, where we were only at the receiving end of a certain propaganda -- a certain message," Almiraat says. "There is a very positive interaction, although people are critical, are objective, are challenging the narrative, but there is a dialogue, and I think that is very positive."
But Almiraat also notes that the closest thing to a "two-way conversation" he has experienced with a U.S. government official is by following the personal Twitter account of Alec Ross, Clinton's 39-year-old senior adviser for innovation and the man responsible for much of the State Department's social-media effort.
Almiraat says that during the revolutions in Tunisia and Egypt, Ross consistently responded to questions from followers in the Arab world and has now developed a following among young, middle-class, English-speaking Arabs -- the demographic most open to hearing the U.S. position.
Raising Expectations
By comparison, he said the official State Department Arabic Twitter account leaves users with "the impression that you are talking to a robot," with its 140-character pronouncements of official policy.
A tweet posted by "Obama" in April on the Syrian government's crackdown on protesters read: "The solution is not violence or arrests. The time has come for Syria to stop the oppression and listen to its people's political and economic demands." It included the hash tags "Syria" and "Obama."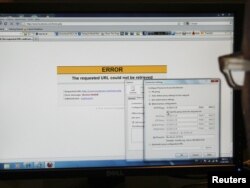 A user attempts to bypass the ban on Facebook in Syria using a proxy server in Damascus.
This stiff, official tone probably won't change, says social-media analyst Clay Shirky. "The tension between managing the different kinds of State Department communications suggests to me that they will actually never be able to use Twitter in a completely open way, in part because they actually genuinely have conflicting goals," he says.
"Their inability to say the same thing to all parties is not a function of which technology they're using. Their inability to say the same thing to all parties is a function of what foreign policy is like."
Dalia Ziada, an Egyptian blogger and human rights activist, acknowledges that it's an open question whether Egyptians' tweets and Facebook messages will have an impact on Washington's foreign-policy calculations. But she sees the chance to communicate -- and in Arabic, no less -- as proof that the White House is interested in what young Arabs think.
That's new for the U.S. government, she says, suggesting it might even improve the country's image among young Arabs. "At least they take [these views] into account when trying to address different political issues in the region," Ziada says. "Especially [it's] that the audience they are targeting is not those people who are watching TV anymore; The Internet today is our TV and radio and everything. It's our media today."
Calling For Help
But it is like the media of yesterday in that it isn't immune to government interference. In places like Belarus and China, government censors block websites, pose as participants in chat rooms to spy on people's conversations, and use mobile-phone signals to track people's whereabouts.
That makes the use of social media dangerous in some places. Iranian activist Etemadi, who recently fled the Islamic republic, says he doesn't expect many of his fellow citizens inside the country to take advantage of the State Department's online presence.
"It would be very difficult for those inside Iran to express their views on [the State Department Facebook page] because of the heavy censorship and also because of the fear that exists in Iran," Etemadi says. "Therefore maybe it's not a very good tool to use to get the views from Iranians inside the country."
Anyone who does decide to engage with the State Department online will be heard, even if they don't hear back, according to the U.S. assistant secretary of state for democracy and human rights. Michael Posner tells RFE/RL that people should think of the State Department's social-media initiative as similar to a tip line.
"I wouldn't pretend to tell you that everybody who writes to the State Department gets an answer. I think our expectation is that we open up lines of communication [and] we get a lot of information that's useful. I don't respond to everybody who sends me an e-mail, but that doesn't mean the information is not being digested and integrated in our thinking," Posner says.
"So I would just say to those activists, 'Keep sending us stuff.' Don't expect every time you're going to get a response, but it is part of a process of educating the U.S. government."