U.S. Says 'Deeply Troubled' By Opposition Arrests In Bahrain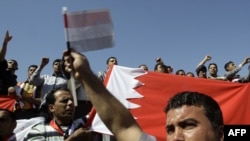 The United States says it's "deeply troubled" by the arrests of opposition leaders and other individuals who have been pushing for greater democratic rule in the tiny Persian Gulf kingdom of Bahrain.
The State Department called on the Bahraini government to ensure transparent judicial proceedings, and for Bahraini security forces to cease violence, especially on medical personnel and facilities.
Bahrain's government is a key ally of the United States, serving as the host base of the U.S. Navy's 5th Fleet.
Security forces in Sunni-ruled Bahrain, backed by Saudi troops, have used sometimes deadly force to stop protests by the Shi'ite majority, and authorities on March 18 demolished the Pearl Square monument in the capital, Manama, that had become a backdrop to the Shi'ite uprising.
Shi'a in Iran and Iraq on March 18 held rallies in support of the Bahraini protesters.
compiled from agency reports