Two prominent veteran photojournalists, one an Oscar-nominated filmmaker, have been killed in the besieged Libyan city of Misurata.
British-born filmmaker Tim Hetherington and award-winning Getty photographer Chris Hondros died on April 20 after they came under fire in the war-torn city, which has seen heavy fighting between Libyan rebels and Muammar Qaddafi's forces for nearly two months.
The two men were among a group working together on Tripoli Street, one of the scenes of the most intense fighting in the city. Two others working alongside them were also wounded.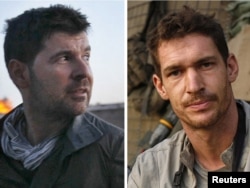 Award-winning photojournalists Chris Hondros (left) and Tim Hetherington
"The Washington Post" reported that the group had gone there with rebel fighters.
"We were on Tripoli Street [in Misurata] working and an RPG [rocket-propelled grenade] hit us, the group," Spanish photojournalist Guillermo Cervera, speaking to Reuters from a hospital in Misurata late on April 20, said. "We were coming backwards because we were scared of the fight and just an RPG went where we were and hit the group."
"The Washington Post" reported that 40-year-old Hetherington died about 15 minutes after he reached the triage facility, and was bleeding heavily from his leg, while Hondros, 41, died after suffering a critical brain injury from shrapnel.
Emma Daly, communications director at Human Rights Watch and a friend of both men, described them as "tremendously warm and kind."
Hetherington had worked on assignment for the organization in Sudan, Chad, and Sri Lanka. Daly described him as more than "just a war reporter."
"He really tried to go beyond that." she said, adding that Hetherington "was not actually on assignment when he was killed."
"He had been on assignment for Vanity Fair and he went back [to Libya], because he wanted to try to tell the story of the people there," she said.
"He really felt that it was his life's work to try to document the lives of people who are suffering in these ways."
Libyan government spokesman Mussa Ibrahim, speaking to reporters in Tripoli April 21, expressed sorrow for the loss of life.
"We do not kill anyone who does not fight us. We need to check the circumstances in which this journalist died," Ibrahim said, "And it's war, of course. People die from our side, from their side. People get caught in the middle. We don't know the circumstances."
But the rebels have accused Qaddafi's forces of deliberately attacking civilians in Misurata.
Covering War
Crimes?
A doctor on the Misurata medical committee, Khalid Abufalgha, told Reuters that seven Libyan civilians and a Ukrainian doctor were killed the same day as the two photojournalists. He said 120 more people were wounded.
The International News Safety Institute reports that hundreds of people are believed to have been killed in Misurata in recent weeks, most of them civilians.
Aid agencies have been warning for weeks of the humanitarian crisis in the city, as stocks fuel, food, and medical supplies are depleted.
The latest warning came on April 20 from UN High Commissioner for Human Rights Navi Pillay, who condemned the "indiscriminate attacks" by Qaddafi's forces in Misurata, saying they could amount to international crimes.
Meanwhile, tributes and condolences have been pouring in for Hetherington and Hondros.
U.S. Secretary of State Hillary Clinton said America "deeply regret(s)" the death of the two men and expressed her government's condolences to their families.
White House press secretary Jay Carney implored Libya and other countries to protect journalists.
"Journalists across the globe risk their lives each day to keep us informed, demand accountability from world leaders, and give a voice to those who would not otherwise be heard," Carney said.
Hazardous Duty
Two other journalists have been killed covering the conflict in Libya: Mohammed al-Nabbous, the founder of the online Libya Al-Hurra TV, and Al-Jazeera cameraman Ali Hassan al-Jaber.
The Committee to Protect Journalists has documented more than 80 attacks on the press in Libya since February, including deaths, injuries, 49 detentions, and 11 assaults.
Hetherington is best known for co-directing the feature-length 2010 documentary "
Restrepo
" about U.S. soldiers on an outpost in Afghanistan. He also won the 2007 World Press Photo of the Year award for
his photos
of U.S. soldiers in Afghanistan's Korengal Valley.
WATCH: YouTube trailer for Hetherington's "Restrepo," which follows U.S. troops in one of the deadliest valleys in Afghanistan.
His co-director on "Restrepo," Sebastian Junger, told ABC News Hetherington was so used to covering conflicts "I don't even think it crossed his mind that he was brave."
The day before his death, Hetherington reportedly tweeted: "In besieged Libyan city of Misurata. Indiscriminate shelling by Qaddafi forces. No sign of NATO."
compiled from agency reports