Split Emerges In Yemen's Armed Forces As Top Commanders Defect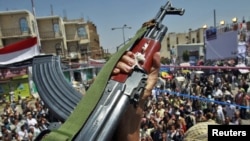 Three senior army commanders in Yemen have defected to the side of antigovernment demonstrators, further eroding the power base of embattled President Ali Abdullah Saleh.
In response, the country's defense minister said the armed forces remain loyal to the president and will counter any "coup against democracy."
The deep rift in Yemen's armed forces was exposed when General Ali Mohsen al-Ahmar, a close ally of Saleh and the commander of the army's powerful 1st Armored Division, used a short video message to announce that he and his unit had defected.
"I announce on their behalf our peaceful support and solidarity with the youths' revolution, we support their demands," he said. "We will carry on with our duties in maintaining security and stability in the capital. Our units will be supporting our brothers in the security and armed forces. I ask God to spare Yemen any trouble."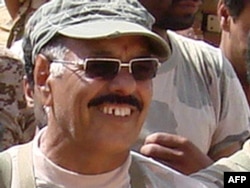 Yemeni General Ali Mohsen al-Ahmar (file photo)
Rival tanks deployed into the streets of Yemen's capital, Sanaa, following the announcement.
Several tanks under General al-Ahmar assembled around the center of the demonstration in an apparent effort to protect protesters.
Others took positions outside the central bank and the ministry of defense.
Meanwhile, armored vehicles belonging to the Republican Guards, an elite force led by Saleh's son, Ahmed, arrived outside the presidential palace.
The two other officers who joined the revolt are Mohammed Ali Mohsen and Hameed al-Qusaibi. The officers have said that violence against protesters is bringing the country closer to "civil war."
Military Loyalties

Many demonstrators greeted the news of the defections as a key victory.
"Today is a holiday because the army has joined [the protesters]," said a demonstrator named Khalis, who spoke to Reuters. "Personally I am not surprised because this is the natural course and now we can say that we are sure the revolution is taking the right course."
The Saleh government, however, was quick to affirm that most of the armed forces remained loyal to the president and would act in its defense.
"During these difficult moments and challenges that our nation is facing due to the crisis caused by some groups which aim for a coup against democracy and the constitution that people voted for in transparent elections, the armed forces announce that they will remain loyal to the oath that we swore before the nation and his highness President Ali Abdullah Saleh," said Yemeni Defense Minister Muhammad Nasser Ali in a televised statement.
General al-Ahmar's defection comes one day after Saleh dismissed his entire cabinet in a bid to end weeks of protest. Saleh, who has ruled the impoverished Arabian Peninsula state for 32 years, previously pledged not to run for reelection in 2013 and promised to undertake political reforms.
But many Yemenis are angry at his heavy-handed response to the unrest. More than 50 protesters were killed by rooftop snipers on March 18 as they gathered in Sanaa to demand Saleh's resignation.
The bloodshed prompted the president to declare a monthlong state of emergency that restricts freedom of movement and extends the police's authority.
'Unavoidable' Exit?

The unrest in Yemen has sparked concern in Western countries, who regard Saleh as an ally against a local Al-Qaeda offshoot that has plotted attacks on the United States and oil producer Saudi Arabia.
The White House says it has told the Yemeni government that the violent response to protesters is "unacceptable" and urged it to respect the rights of demonstrators.
Speaking in Brussels on March 21, French Foreign Minister Alain Juppe went further, saying that Saleh is facing an "unavoidable" exit from power.
The Yemeni president, however, has not shown any intention of stepping down.
According to the SABA state news agency, he said, "We are as firm as mountains are and the vast majority of Yemenis opt for security, stability, and constitutional legislation."
Top Yemeni tribal leader Sadiq al-Ahmar has also joined the military defectors, saying on March 21 that he, too, was joining the opposition. A series of ambassador have also quit in recent days, including Yemen's envoys to Saudi Arabia, Jordan, and Syria.
And Yemen's ambassador to France, Khaled al-Akwaa, has announced that he and his counterparts in Belgium, Germany, Switzerland, and the United Kingdom have sent a joint letter to Saleh, asking him to resign.
compiled from agency reports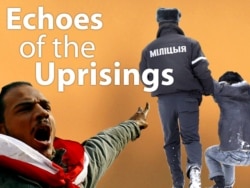 Tracking events and ideas convulsing the Arab world and with ripples around the globe, including RFE/RL's broadcast region.
Click here