Two Attacks Near Kabul, One British Soldier Killed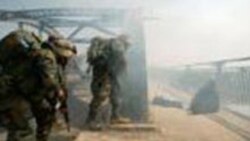 Kabul, 28 January 2004 (RFE/RL) -- Reports say international peacekeepers in Kabul came under two separate attacks today, resulting in the death of one British soldier and several injuries.
The near simultaneous explosions took place near the British and German military bases.

The deputy commander of the NATO-led International Security Assistance Force, Major General Andrew Leslie, said initial reports indicate one British soldier was killed near the British base.

Police said a suspected suicide bomber also detonated an explosion near the German peacekeepers' base east of Kabul, injuring five foreigners.

Today's explosions happened as peacekeepers were holding a memorial ceremony for a Canadian soldier killed in a suicide attack on a military convoy in Kabul yesterday. Three more Canadian troops and several civilians were wounded in that attack.