Rights Groups Says Abductions Rampant In Chechnya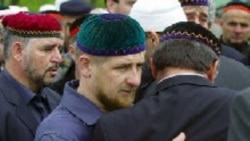 HRW accused the forces of Ramzan Kadyrov (in file photo) of involvement in abductions, in addition to federal troops 17 February 2005 -- An international human rights group has charged that more than 1,000 people are believed to have been kidnapped in Chechnya in 2004.
Anna Neistat of Human Rights Watch told a news conference in Moscow that the group has "strong reasons" to believe that Chechen security forces under the command of Chechen deputy Prime Minister Ramzan Kadyrov, as well as federal troops, were involved in the abductions.
The group estimates that Kadyrov's men were responsible for about two-thirds of the disappearances and that the rest were carried out by federal soldiers.
Neistat said that during a recent two-week trip to Chechnya representatives of the New York-based group were told by Chechens that Kadyrov's forces increasingly target women, elderly people and teenagers.
Ramzan Kadyrov -- whose father, pro-Moscow President Akhmed-hadji Kadyrov, was
killed in a bomb blast
in May -- has repeatedly denied allegations that his forces were involved in abductions.
(RFE/RL/AP)
[For an archive of related RFE/RL coverage and analysis, see our dedicated Crisis In Chechnya webpage.]