Afghanistan: Amnesty International Says Afghan Women Still Facing Abuse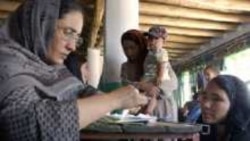 Women turned out to vote in record numbers for the 2004 presidential ballot, but AI says their rights are far from secured Amnesty International says in a new report that Afghan women face the risk of abduction, rape, and forced marriage on a daily basis. The report -- entitled "Afghanistan: Women Under Attack" -- says women in Afghanistan face discrimination from all segments of society as well as by state officials. The report comes a day after Afghan election authorities announced that about 10 percent of the candidates who have registered for the country's upcoming parliamentary and provincial elections are women.
Prague, 30 May 2005 (RFE/RL) -- Throughout Afghanistan hundreds of women and girls continue to suffer abuse at the hands of their husbands, fathers, and brothers. Afghan women are also abused by armed individuals, state institutions such as the police, and the judicial system.
These are some of the findings of a new report by Amnesty International based on extensive interviews with Afghan women.
Amnesty International says that, throughout Afghanistan, "few women are exempt from violence or safe from the threat of it."
The publication comes more than three years after the fall of the Taliban regime, which barred women from public life and forced them to wear burqas -- a garment that covers the face and body. Since the overthrow of the hard-line regime, women have returned to schools and the workplace, but Amnesty International says that abuse against women is still rife -- especially in rural areas.
"Societal codes, invoked in the name of tradition and religion, are used as justification for denying women the ability to enjoy their fundamental rights."
Forced marriages have reportedly increased and some women have killed themselves by self-immolation to escape.
The report states that "societal codes, invoked in the name of tradition and religion, are used as justification for denying women the ability to enjoy their fundamental rights."
Jamileh Mujahed is the director of Voice of Women, a Kabul-based radio station that is dedicated to women's issues. Mojahed -- who was the first female presenter to appear on television announcing the fall of the Taliban regime in 2001 -- told RFE/RL that insecurity is one of the main reasons for widespread abuse against women.
"The disarmament process hasn't been completed yet, and it hasn't been successful," Mujahed said. "There are still irresponsible armed people are in charge in Afghanistan's provinces. The have power. And in such conditions, of course, the situation of women has not improved."
Amnesty International has called on the Afghan government to condemn publicly violence against women and to change laws and practices that permit gender discrimination.
Amnesty International has also called on the international community to support the Afghan government's efforts to prevent crimes against women through its efforts to rebuild the country.
The report's author, Nazia Hussein, told Reuters that there are glimmers of hope -- noting that women are entering politics and starting to make their voices heard.
Afghan officials have encouraged women to run in the upcoming elections in order to have a say in future laws and policies.
The latest figures by Afghanistan's Joint Electoral Management Body (JEMB) show that out of the some 3,000 candidates who have registered for the 18 September parliamentary elections, about 350 are women. Approximately 300 women have also registered for the provincial council elections that are scheduled to take place the same day.
More than one-fourth of the seats in the Wolesi Jirga (The lower house of the Afghan National Assembly) are reserved for women.
JEMB spokesman Sultan Ahmed Baheen told RFE/RL that the turnout of women -- who compose slightly more than 10 percent of the candidates -- is favorable.
"For the Wolesi Jirga, the number of women who have registered is enough," Baheen said. "For example, in Oruzgan, there are three women candidates for one seat. But, for example, in Kabul, for nine seats we have 45 [female] candidates. For the provincial councils, in Oruzgan we don't have any female candidates. In Zabul Province, Niagara, Konar, and Nurestan, we do have candidates but their number is not enough."
Jamileh Mujahed said she believes security issues have prevented many women from registering their candidacies for the elections.
"Yesterday in Kandahar a prominent Afghan personality, Molavi Abdullah Fayaz, was killed in the open daylight by armed men. He was a man of fame," Mujahed said. "A poor woman with no name and no fame and without real support, how can such a woman feel responsible? It's very difficult with the current insecurity for women to have enough courage to come forward and become a candidate or have enough courage to defend their rights."
Mujahed said security must be improved if women involved in politics are to be successful in bringing about changes.
"It is possible that the presence of women in the parliament will bring some small changes, but as long as security is not guaranteed all over Afghanistan, it will be very difficult. Until then I'm not hopeful," Mujahed said.