Putin Concerned About Stability In Daghestan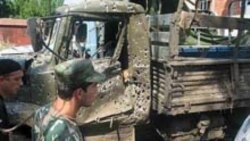 The scene of a bombing in Makhachkala earlier this month 14 July 2005 (RFE/RL) -- Russian President Vladimir Putin said today his government will stabilize the situation in Daghestan, where police have come increasingly under attack.
Putin was visiting security agencies and border guards near the southern city of Astrakhan.
Earlier, Interior Ministry spokesman Khabib Magomedov said that police -- acting on a tip -- had raided a house in the capital, Makhachkala.
"Dagestani law-enforcement officers conducted a search operation together with subunits sent over here to the Daghestani Interior Ministry," Magomedov said. "As a result of the operation, one militant was killed and several people were detained."
He said three police officers were wounded in the operation.
A radical Islamic group -- the Shariat Islamic Djamaat of Daghestan -- has threatened in a website posting to extend its attacks to family members of police.
(AP/ITAR-TASS)
See also:

Anatomy Of A Permanent Crisis