Iraq Seeks Antiterror Pact With Neighbors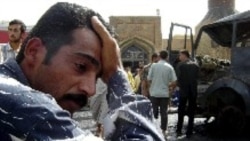 Iraqis grieving yesterday at the site of the 16 July Musayyib bombing, which killed more than 90 people 18 July 2005 -- Iraqi Interior Minister Bayan Solagh has said that Iraq will discuss plans for a regional antiterrorism agreement at an international meeting of interior ministers tomorrow in Istanbul.
Turkey's Anatolia news agency today quoted Solagh as saying that the aim of the proposed agreement would be to prevent terrorism and control borders. He said that if neighboring states reach agreement and help each other, "we can wipe out terrorism."
The Istanbul meeting, the second of its kind, will bring together ministers from Turkey, Iraq, Bahrain, Saudi Arabia, Kuwait, Egypt, Syria, Iran, and Jordan.
The meeting takes place against a backdrop of escalating violence in Iraq. A series of car bombers struck across the country yesterday,
leaving at least 22 people dead
. That wave of attacks came one day after a
suicide bombing in the town of Musayyib
killed at least 90 people.
(AFP)