UN Hopes 15 Uzbeks To Be Allowed To Stay In Kyrgyzstan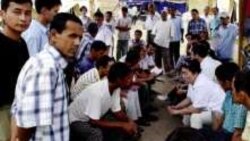 Uzbek refugees at their camp in Kyrgyzstan in June 12 August 2005 -- The United Nations refugee agency says it is hopeful that the 15 Uzbek asylum seekers detained in the southern Kyrgyz city of Osh will be released and allowed to stay in Kyrgyzstan.
Jennifer Pagonis, spokeswoman for the UN High Commissioner for Refugees (UNHCR), said Kyrgyz authorities have reiterated that the 15 will not be deported to Uzbekistan.
The 15 Uzbeks, 11 of whom have been accepted for resettlement by Finland, the Netherlands, and Sweden, took refuge in Kyrgyzstan in May after security forces violently suppressed an uprising in the eastern Uzbek city of Andijon.
Pagonis said the UNHCR is also concerned for another four Uzbeks who were deported to Uzbekistan in June in contravention of international law. UNHCR has not been able to have access to them.
Pagonis said Uzbek authorities earlier this week informed UNHCR that the four were "self-confessed criminals" who had returned voluntarily.
(AFP/AP)
See also:

UN Comments On Resettlement Of Uzbek Refugees