Tajikistan Shoots Down Aircraft Carrying Heroin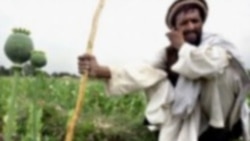 Opium cultivation in Afghanistan (file photo) 23 August 2005 (RFE/RL) -- Officials say border guards in Tajikistan have shot down a piloted motorized parachute carrying 18 kilograms of heroin from Afghanistan, RFE/RL's Tajik Service reported.
Troops opened fire on the paraplane on 22 August above Tajikistan's southeastern border. A search operation was under way to find the pilot, who was thought to have been wounded.
Tajikistan is a major route for drugs flowing from neighboring Afghanistan, the world's top opium producer.
However Sabza Sarkorov, deputy head of the Tajik border troops, told RFE/RL that this was the first time an aircraft with narcotics was intercepted.
(RFE/RL's Tajik Service/dpa/Interfax)
See also:

Afghanistan: World's Largest-Ever Pile Of Drugs Destroyed

Iran's Drug Problems Appear To Be Worsening