Russia Launches New Beslan Investigation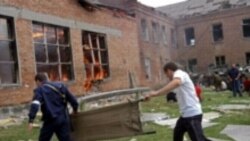 5 September 2005 -- Russian Deputy Prosecutor-General Vladimir Kolesnikov led a team of federal investigators to Beslan today on orders of President Vladimir Putin to assess the progress in the investigation into last year's tragic hostage crisis at an elementary school.
The school siege climaxed with the deaths of 331 people -- of whom more than half were children.
Putin met with some of the mothers of the scores of children who were killed in Beslan when terrorists seized their school on the first day of lessons.
Putin promised the group there would be a thorough inquiry to answer any remaining questions about the hostage-taking crisis.
The episode ended when bombs exploded inside the school and Russian troops attacked the terrorists.
Relatives of the victims and survivors blame authorities for mishandling the crisis and say Russian assault troops were responsible for the high death toll.
(dpa/AFP)
See RFE/RL's dedicated webpage, see "Remembering Beslan"