Russian Defense Minister In Uzbekistan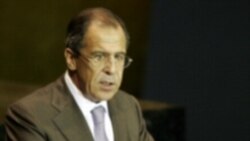 Sergei Ivanov 22 September 2005 (RFE/RL) -- Russian Defense Minister Sergei Ivanov is due to meet with Uzbek Prime Minister Savkat Mirziyoev and National Security Service chief Rustam Inoyatov today as he continues an official visit to Tashkent.
On 23 September, Ivanov and Defense Minister Kadyr Gulomov will attend the first-ever joint military exercises between Russian and Uzbek military forces without international supervision since the collapse of the Soviet Union.
The three-day war game, which started on 21 September, involves 200 troops from each side. Ivanov has said the exercise is necessary to confront what he described as "new threats and challenges in the region."
Ivanov arrived in Tashkent on 21 September from Bishkek, where he announced plans to hold joint anti-terrorist military exercises with Kyrgyzstan next year.
(ITAR-TASS)
Related Story:

"Central Asia: Is Regional Turbulence Return Of The Great Game?"