Kazakh Opposition Party Leader To Run In Presidential Race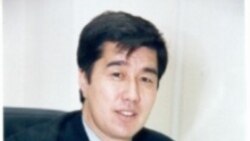 Alikhan Baimenov (file photo) 26 September 2005 -- The leader of Kazakhstan's opposition Ak Zhol party, Alikhan Baimenov, today said that he will run in the 4 December presidential elections.
Baimenov is the 14th contender to declare his intention to join the race. He says that election officials have already accepted his nomination papers.
Ak Zhol is the only party that has not joined the pro-democracy opposition election bloc For a Fair Kazakhstan, which is fielding a single presidential candidate, Zharmakhan Tuyakbai, in the vote.
(Interfax-Kazakhstan/AP)
For more news about Kazakhstan see RFE/RL's webpage "News and Features on Kazakhstan