Watchdog Says Kazakh Media Freedom Under Threat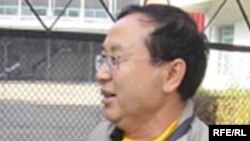 Journalist Saya Issa is among those who have been arrested in recent days (RFE/RL) 24 October 2005 (RFE/RL) -- A Paris-based media watchdog says press freedom has been under increasing pressure in Kazakhstan over the past week, in run-up to the 4 December presidential election.
In a statement released today, Reporters Without Borders calls for steps to be taken to allow the opposition to have its say during this pre-election period.

The statement notes that an Almaty court has banned the opposition Internet site navi.kz, formerly navigator.kz.

It says that five journalists -- Saya Issa, Olesya Gassanova, Almas Nurdos, Ruslan Sapabekov, and Eldess Myrzakhmetov -- have been arrested in Almaty during a search of the opposition movement For a Just Kazakhstan. They were all later released.

Finally, the statement says two editions of independent newspapers -- "Svoboda slova" and "Jouma-Times" -- have been seized by police in Almaty.