Pakistan Reportedly Arrests Al-Qaeda Suspects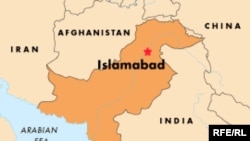 (RFE/RL) 3 November 2005 -- News reports from Pakistan say security agents have arrested two Al-Qaeda suspects during a raid on a house in the city of Quetta.
The Associated Press and CNN cite unnamed Pakistani intelligence officials who say the arrests took place earlier this week.
The authorities are investigating whether one of the suspects is Mustafa Setmarian Nasar, a Syrian who is alleged to have played a key role in the March 2004 Madrid terror bombings that left 191 people dead and more than 1,500 injured.
(AP/CNN)